Dozens injured in Ventura County train derailment
February 24, 2015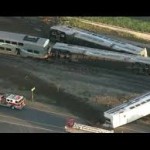 A northbound commuter train hit a produce truck injuring 28 people Tuesday morning in Ventura County near Oxnard.
Rail cars skidded onto their sides and passengers were launched from their seats as the train struck the truck. Of the 49 people on board the train, 28 were taken to the hospital, some with head and neck injuries. Four people were critically injured including the engineer.
Shortly before 6 a.m., a 54-year-old man from Arizona accidentally drove the produce truck onto the tracks, and when he saw the train coming, he left the truck. An Oxnard police officer discovered the disoriented driver about a mile and a half from the accident. He was taken to a hospital for observation and later arrested on a felony hit-and-run charge.
When emergency personnel arrived, they found three train cars on their sides and the truck engulfed in flames. The investigation is ongoing.