No to a Santa Margarita quarry
February 11, 2015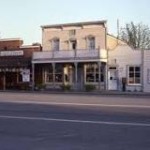 OPINION By TE KINDERKNECHT
Dear San Luis Obispo community, I write in response to the gross misinformation being shelled out. I challenge any of the supporters of the Santa Margarita quarry to post their address, even just their street. I am betting that these folks do not live on the proposed route of the double diesel trucks running by every two and a half minutes if this horror of a quarry project had been approved.
I also challenge the Coles and the Souzas to take my challenge, and have one of their double loaded diesel trucks drive by their residence every two and a half minutes for even a single day – which is exactly what the residents of Santa Margarita would be forced to live with all day every day – get this point clearly, we residents would be living with doubled loaded diesel trucks driving by every two and a half minutes!
To say that traffic is mitigated by that quantity of diesel trucks driving down I Street, a residential street, every two and a half minutes is ludicrous. I also point out that there is not a single parent of a child attending Santa Margarita Elementary School who would support such a ridiculous plan as to have this kind of traffic endangering the children and the residents of this precious town.
Furthermore, it is obvious who has read the EIR and who has not read the EIR. It would be ethically and morally corrupt to have read that report and still support this project.
And yes, Highway 58 has been in existence for quite a while but suppose we all think about how the town of Santa Margarita has changed in the last 100 years? How could anyone possibly think that the roads/infrastructure that existed 100 years ago would support not only the increase in population growth/residential traffic during that time, but a project of this magnitude as well?
As you read this, ask yourself honestly – how would I feel if a double loaded diesel truck drove by your home every two and a half minutes all day every day?
TE Kinderknecht has lived in San Luis Obispo County for more than 40 years with the last 10 years on I Street in Santa Margarita.