Sex toy pops up at Santa Barbara City Council
February 11, 2015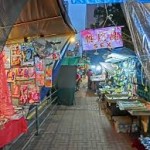 A Santa Barbara candy shop owner delivered a surprise at a council meeting on Tuesday, but he did not gift city officials with any sweets. [KEYT]
John Webby, the owner of Webby's Candy Company, used rubber gloves to pull a sex toy out of bag and show it off to the Santa Barbara council during a public comment period. Webby said he found the device on a State Street bench across the street from his downtown shop.
The candy salesman said his customers saw the sex toy, and it embarrassed them. Webby's plea to the city is that workers finish removing benches in the area that are frequented by homeless people.
Webby threatened to make the problem a campaign issue. Santa Barbara Mayor Helene Schneider said the Downtown Organization and police are working on the issue, and she invited Webby to get involved.
Schneider also said that, at first, she though Webby might be threatening council members when he was pulling something out of a bag.
On New Year's Eve 2013, the discovery of a well-concealed sex toy in San Luis Obispo drew even more attention. The bomb squad and its lead robot, Andros, came out to remove an object wrapped in black electrical tape from a San Luis Obispo street.
The object snatched by Andros turned out to be a dildo.