The demise of live music in San Luis Obispo
February 24, 2015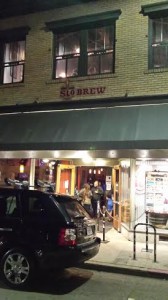 By COLIN JONES
It's official, live music in all its glorious and magical splendor is on life support in America's happiest city. But you know it probably has never been the most fun place.
Due to a major seismic retrofit of its current building soon, SLO Brew will be closing its doors in July, marking the end of a 27-year run that saw many highs and a few lows along the way. I spoke with some industry people at a recent sold-out show by local favorite Night Riots and they all confirmed what most of us already suspected; their new location on Higuera Street will not include live music.
Other local venues like the Z Club shut down last year and the Graduate no longer holds concerts. Frog and Peach stages bands nightly but good luck booking Snoop Dog there. New hangout Bang the Drum Brewery is doing a songwriter show on Monday nights and the venerable SLO Blues Society present a handful of Vets Hall concerts every year.
Still, that leaves us with a big, fat bagel in the diverse, large nightclub vein. SLO Brew was absolutely the cornerstone of the county's live music community during the past decade.
Todd and Korie Newman recently divested their interest in the popular Garden Street hot spot and started Good Medicine, a concert promotion entity that has recently put on some great shows at the Fremont Theater. Along with Eddy's Numbskull Productions and Bruce Howard's Otter Productions, our county is blessed with cool, smart promoters who are committed to a vibrant local music scene.
If nothing is developed, preferably downtown, to fill this huge entertainment void when SLO Brew shutters, local concertgoers are pretty much screwed.
So where do we go from here? Unfortunately, it was clear from all the public meetings about SLO Brew's relocation that city leaders were more interested in a quiet dining and shopping vibe downtown than a thriving music venue. And there's a much too complacent, comfortable element here who don't really care if The Tubes are performing on New Year's Eve.
Sure, there already are a bunch of bars downtown with hard-partying youngsters roaming the streets. However, a nightclub offering headliner bands of all genres as well as up-and-coming local acts is a completely different animal, a unique, priceless one that will soon be non-existent. The best thing about SLO Brew was they were really the only place where all demographics and ethnicities would happily mix together.
The demand, and even more importantly, a need desperately exists for a strong, locally-owned entertainment establishment. This area has too many talented musicians, dedicated music lovers and savvy entrepreneurs/property owners not to make it happen.
Look, they just need a place to play. Build it, and we will come.
Get links to stories on the music scene, like CalCoastNews on Facebook.