Did illegal ticket quotas hasten Gesell's exit?
May 11, 2015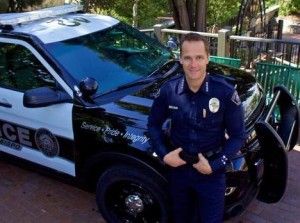 By KAREN VELIE and DANIEL BLACKBURN
San Luis Obispo Police Chief Steve Gesell's command staff initiated an illegal ticket quota scheme with pizza as a reward, emails obtained by CalCoastNews show, an activity that may have contributed to Gesell's being placed on paid administrative leave Friday.
City officials are not disclosing the reasons for Gesell's departure.
In the past, the San Luis Obispo Police Department has been plagued with complaints of ticket quotas. Ticket quotas are against state law.
A quota exists when a department sets a number of tickets and citations an officer is expected to write during a shift. Ticket quotas are banned because they are known to promote questionable ticketing with higher revenue as an objective.
In San Luis Obispo, officers who do not to meet the minimums are put on a "performance improvement" plan, police sources said. Officers who fail to improve while on the performance plan are subject to disciplinary actions, including termination.
Gesell did not respond to questions about the alleged quotas. Nevertheless, a records request for end-of-shift emails shows that the department was providing perks to officers for reaching specified ticketing goals.
In 2013, SLO police officers made 396 driving under the influence arrests, or an average of one a day.
On Feb. 13, police command staff asked the officers to give five DUIs during one shift, sources said. If the officers met the goal, command staff would host a party for the officers.
In an end-of-shift email dubbed "Friday the 13th," Sgt. John Villanti writes that officers stayed busy all night, with one local man dying of a heroin overdose, and five others being arrested for DUIs.
"It should be noted that the watch fulfilled a challenge set in the beginning of the rotation by Sgt. Gillham," Villanti wrote in an email he sent to officers on Feb. 14 shortly after 6 a.m. "He offered to provide a pizza party if the watch arrested five DUI's in a night. With Sgt. Villanti substituting for Gillham this was achieved and we are all looking forward to the pizza party which hopefully is served with dessert too!!!"
Sources inside the department said that shortly after CalCoastNews made its requests for end-of-shift emails, the department stopped pushing ticket quotas. Cities such as Los Angeles and Paso Robles have paid large settlements to officers who have filed lawsuits alleging illegal ticket quotas.
In addition to accusations of promoting illegal ticker quotas, Gesell has been under fire for charging city taxpayers for meals purchased for his family during a combination chief training and family vacation to Disney World. This was first reported by CalCoastNews in an exclusive report.
After city officials conducted their own investigation, City Manager Katie Lichtig said that some of the police chief's financial transgressions were "mistakes." In other cases, while Gesell's actions violated written city policies, his actions were excused as a "consistent application" of policy according to a "historical interpretation." Historical interpretation means that even though policies and procedures have been laid out, prior practice allows them to be violated without consequence.
Gesell was also criticized for a December opinion piece in the Tribune about the death of Michael Brown in Ferguson. Gesell wrote that he was shocked by the "ever-growing lack of deference to rule of law, push for mob justice by some and a concerted lack of objective focus by the media…."
Reliable and informed sources say Lichtig placed Gesell on leave as part of a plan to remove him from the city payroll because of irreconcilable differences. The late-day timing of Friday's disciplinary action was a failed attempt to keep the public in the dark, sources said.
In addition, the city council is expected to discuss a payout, likely to be in six figures, at a council meeting later this month — during a closed session. Lichtig hired Gesell as chief in Jan. 2012.
Don't miss breaking news stories, like CCN on Facebook.