Pismo Beach council tables building moratorium
May 20, 2015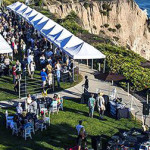 Following objections from residents and developers, the Pismo Beach City Council tabled a proposed building moratorium. [Tribune]
On Tuesday, the council considered adopting an ordinance that would prohibit the city from issuing building permits for vacant lots. Developers could only continue to build on vacant lots if they completed permit applications prior to the moratorium taking effect.
When phased in, the proposed ordinance would also ban redevelopment of existing buildings unless the renovation includes at least a 30 percent reductions in water use. Likewise, it would ban all municipal irrigation, unless the city council directs otherwise.
Developer Gary Grossman called the proposed restrictions draconian. Grossman has built multiple housing developments in Pismo Beach.
Councilman Erik Howell said the moratorium would shut down the main economic engine of Pismo Beach. Howell said several large projects, including hotels are already in the pipeline.
Council members said they would prefer to have more information before potentially stalling those projects.
However, the council did request that staff bring back the moratorium proposal in the fall. In the meantime, the council plans to assess how new water restrictions are working.
During Tuesday's meeting, the council declared that Pismo Beach is in a critical water supply shortage. The declaration allows the city to impose any water-rationing measures it deems necessary to preserve public health.
Water conservation measures under consideration include requiring commercial businesses to install no-water urinals and creating more rebate programs for city residents. The city currently prohibits residents from washing cars and sidewalks with a hose.
Outdoor irrigation is also limited to the hours between 4 p.m. and 10 a.m.
Some residents and developers asked the city to look into acquiring water from the desalination plant at Diablo Canyon. Earlier Tuesday, the San Luis Obispo County Board of Supervisors and PG&E agreed to examine ways to make the desalinated water available to nearby communities.