SLO water exceeds chemical compound limit
July 6, 2015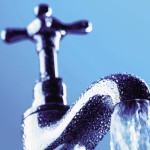 A chemical compound that is a by-product of chlorine has exceeded the drinking water safety limit in at least some San Luis Obispo households.
City water monitors recently discovered that the amount of trihalomethanes in a water supply sample exceeded the maximum containment level (MCL), according to a notice sent to many residents. The water sample came from a location on Johnson Avenue and Southwood Drive during the second quarter of 2015.
Trihalomethanes often form when chlorine is used to disinfect drinking water. The city treats its drinking water with chlorine, according to annual water quality reports.
Because the water levels in local reservoirs have dropped, the city's water supply is requiring a higher amount of chlorine to kill algae and other toxins, said Aaron Floyd, SLO's deputy director of water.
In addition, water conservation efforts have led to a 25 percent reduction in San Luis Obispo water usage in May 2015 compared to May 2014. The reduction also means water is in the pipeline longer which promotes an increase in trihalomethane levels, Floyd added.
The city's MCL for trihalomethanes is 80 parts per billion, according to the notice. Monitors detected 82.1 parts per billion in the water sample the average numbers over the past quarter.
The utilities department notice states the excessive amount of trihalomethane does not pose an immediate risk, and residents do not need to use an alternative water supply. However, it says long-term exposure to excessive trihalomethanes can cause health problems.
"Some people who drink water containing total tirihalomethanes in excess of the MCL over many years may experience liver, kidney or central nervous system problems, and may have an increased risk of getting cancer," the notice states.
The city says it is working with the state water board to further evaluate the water supply and research options to correct the problem.