Cal Poly to pay $480,000 to rid Moriarty's name from scoreboard
August 20, 2015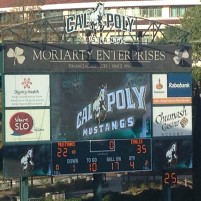 Cal Poly has agreed to pay $480,000 to remove Ponzi scheme architect Al Moriarty's name from the scoreboard of the university's football stadium.
The funds from the settlement will come from the Cal Poly Foundation, not tuition money, according to a statement released by the university. The settlement money will go to a bankruptcy trustee who represents Moriarty's investors.
Moriarty, the former owner of Moriarty Enterprises, pleaded guilty last year to seven felonies stemming from a Ponzi scheme he ran. Moriarty's investors are believed to have lost about $22 million.
In 2009, Moriarty paid $625,000 for the naming rights to the Cal Poly scoreboard. The name "Moriarty Enterprises" still appears on the scoreboard, even though the university has been trying to remove it for more than a year.
A bankruptcy judge has held up the removal of the name, ordering Cal Poly to first settle the lawsuit it faced. The bankruptcy court must still approve the $480,000 settlement to which the university agreed.
Cal Poly's first home football game in 2015 is scheduled for Sept. 19. The university previously stated in court documents that it hoped to replace Moriarty's name with "#Cal Poly" or "Go Cal Poly" in time for the start of last year's football season.
On Wednesday, Cal Poly announced it resolved a difficult situation and regained control of the scoreboard.
"It has been a priority to resolve this matter amicably and to remove the Moriarty name from the campus scoreboard, which has served as a painful reminder to Mr. Moriarty's victims and to the campus community," Cal Poly said in the statement.
Moriarty, 82, is due to be released from San Luis Obispo County Jail on Dec. 20, according to the San Luis Obispo County Sheriff's Office website.