Man acquitted of sexual assault sues SLO County
August 4, 2015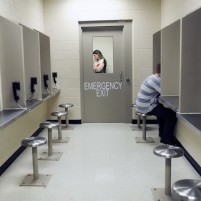 A South County man spent almost two years in county jail, where he lost two teeth, after sheriff's detectives and prosecutors falsely accused him of sexually assaulting two teenagers, according to a lawsuit filed last week in San Luis Obispo Superior Court. [Tribune]
In May 2012, two women — then 16 and 18 years old — reported waking up to an unknown man in their bed. Michael Aaron McGrew, 34, faced eight felony charges, including assault with intent to rape, and could have served a life sentence, if convicted, according to the suit an attorney filed on his behalf.
But, following a three-week trial in March 2014, a San Luis Obispo jury acquitted McGrew. The jury reached the verdict after less than two hours of deliberation, the lawsuit states.
McGrew's lawsuit alleges sheriff's investigators submitted reports to the county district attorney's office that did not reflect what occurred during interviews with the alleged victims. The first 34 minutes of the initial interview were recorded.
During the initial interview, the alleged victims said McGrew was in bed between them, and he held them both down with choke holds or head locks. The alleged victims also said they had been asleep and did not know whether McGrew touched them sexually.
Later, the teenagers said McGrew did touch them sexually before they fended him off. The reports forwarded to district attorney's office did not explain the girls changed their stories, the lawsuit states.
The suit also states the alleged victims showed little to no emotion in the interview and could even be heard laughing at several points. Additionally, deputies mentioned finding small bags of methamphetamine in the girls' bedroom during the recorded interview, but the reports forwarded to the DA's office made no mention of drugs.
Following the interview, the alleged victims went to the hospital for a sexual assault test. But, both left the hospital, against medical advice, prior to the arrival of the sexual assault response team, according to the suit.
The lawsuit also alleges sheriff's deputies interviewed the teens together, rather than separately, which would have enabled investigators to vet their credibility.
The suit names San Luis Obispo County, the county sheriff's office, Sheriff Ian Parkinson and four deputies and detectives. It alleges false arrest and imprisonment, intentional infliction of emotional distress, negligence and malicious prosecution.
While awaiting trial, McGrew was assaulted five times in county jail, according to the lawsuit. McGrew lost two teeth as a result of the assaults.
Nina Negranti, chief deputy county counsel, said the lawsuit has no merit.
McGrew has been arrested numerous times over the past 16 years. He is currently in county jail and facing charges of spousal abuse, assault by means likely to produce great bodily injury and dissuading a witness from testifying.