California Assembly approves assisted suicide bill
September 10, 2015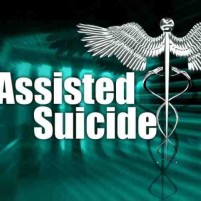 A bill that would legalize assisted suicide for terminally ill patients passed the California Assembly Wednesday and now moves on to the State Senate, which has already endorsed similar legislation. [LA Times]
The Assembly voted 43-34 in favor of the End of Life Option Act, which would allow doctors to prescribe life-ending drugs to the terminally ill. If the bill were to become law, it would require patients to submit two oral requests and one written request for a lethal prescription.
The oral requests must come at least 15 days apart. The written one must be signed in front of two witnesses who state the patient is of sound mind and not under duress.
Three months ago, the Senate passed a similar bill. It stalled in the Assembly health committee, though.
Opponents of the bill have argued the legislation might result in people with disabilities being coerced into ending their lives prematurely. Assisted suicide bills previously failed in the Legislature in 2005 and 2007.
In 1992, California voters rejected an initiative that would have allowed physicians to administer lethal injections. The current proposal in the Legislature is modelled after an Oregon law that was adopted in 1997.
The Catholic Church is a leading proponent of the bill.
California Governor Jerry Brown is a former Jesuit seminary student who considered becoming a Catholic priest. The governor has yet to state his position on the assisted suicide legislation.
The Legislature concludes its current session at the end of this week.