Arroyo Grande planning commissioner retains his seat
November 11, 2015
By KAREN VELIE
The Arroyo Grande City Council voted unanimously Tuesday to retain John Mack on the Planning Commission following a conflict of interest complaint filed by developer Nick Tompkins. A vote that surprised most attendees at the meeting.
Following an unanimously vote by the Planning Commission to reject Tompkins proposal for a residential and commercial development at Courtland Street and Grand Avenue, primarily because of parking and density concerns, Tompkins filed a conflict of interest complaint against Mack with the California Fair Political Practices Commission (FPPC).
Before the complaint reached the FPPC, council members Barbara Harmon, Jim Guthrie and Kristen Barneich voted to place the removal of Mack on the council's Nov. 10 agenda.
Since that vote to consider Mack's removal, the FPPC determined Mack did not have a conflict of interest as detailed in Tompkin's complaints.
On Tuesday, during public comment, Tompkins laid out his reasons for reporting Mack to the FPPC. Tompkins argued that when Mack quit claimed his home to another, he had violated conflict of interest rules.
"We must do what is right for the city, we need unbiased reviews," Tompkins said before asking the council to remove Mack from the Planning Commission.
However, during an emotion charged public comment period, only three people supported Tompkins request while 12 speakers asked the council to retain Mack.
Robert Montoya, a professional engineer, argued that having an architect and planner with 30 year experience examining projects was in the best interest of the city. Several speakers questioned Tompkins motivation for seeking Mack's removal from the Planning Commission.
"I believe Tompkins thinks Mack may be a threat to future projects," Montoya said.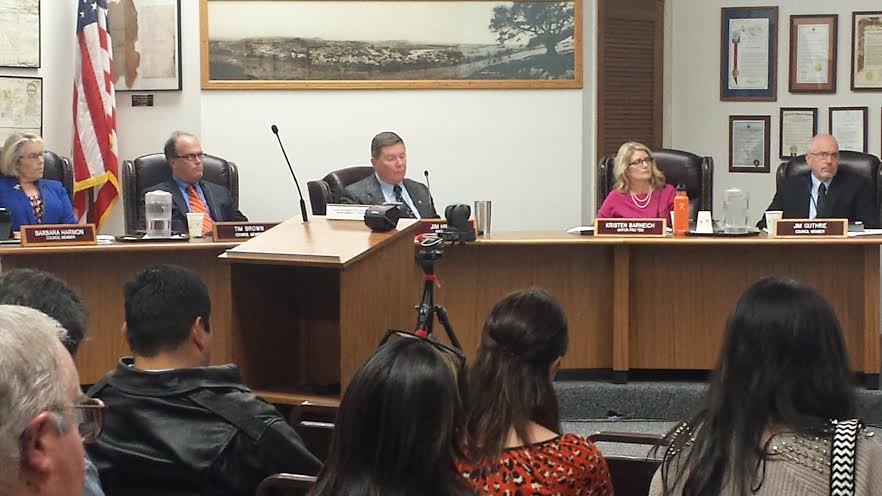 Following public comment, Barneich noted the inconsistencies in statements made by Tompkins and those made by Mack and his supporters as part of the reason that Mack should lose his commission seat.
For example, Barneich said she was concerned about reports that Mack had not transferred the property to a former girlfriend he had bought the home with, but had signed it over to one of his children. However, county records show the property was deeded to Paula Renner, Mack's former girlfriend.
Along with Guthrie, Barneich voiced concerns about Mack quit claiming his home to another the morning of the Planning Commission vote.
"Mack has a right to speak his mind," Guthrie said. "I am concerned about the quit claim deed."
Guthrie then noted his intention to have Mack removed from the commission.
Mayor Jim Hill and Councilman Tim Brown noted that the FPPC did not find a conflict of interest as they both voiced support for Mack's continued public service in part because of his planning background.
"Arroyo Grande has a history of poor planning; box stores on the freeway and the Brisco Road interchange," Hill said. "I have found that Mack does ask the difficult questions."
In addition, Hill questioned why in this case several council members were seeking to remove a public servant because of a rejected conflict of interest complaint, while if verified the FPPC lodges a fine and the public figure generally keeps their seat.
"The penalty should fit the crime," Hill said.
Harmon, who made the original motion to consider Mack's removal, said the issue was transparency and the appearance of a conflict of interest. Nevertheless, Harmon made the motion to retain Mack on the Planning Commission, which prompted Guthrie and Barneich to reluctantly vote with the majority.
Following the City Council's vote to keep Mack on the Planning Commission until his term expires in early 2017, Mack said he is considering running against Guthrie and Barneich for a seat on the council in the Nov. 2016 election.
"I am definitely considering running for the City Council," Mack said. "I enjoy serving the public."
Get links to local news stories, like CCN on Facebook.