Cal Poly puts two fraternities on probation
November 12, 2015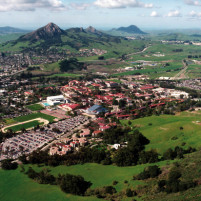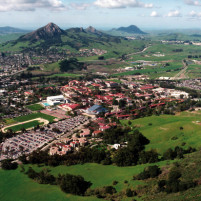 Cal Poly administrators have placed two fraternities on social probation for violating the university's party registration rules.
University officials placed both Alpha Epsilon Pi and Phi Kappa Psi on social probation for the remainder of Fall 2015, according to the Cal Poly website. Social probation bars fraternities from hosting social events.
Last year, Cal Poly instituted a policy that requires fraternities and sororities to notify university officials in advance of parties they host. Fraternities and sororities must also submit guest lists.
The Mustang News reports both Alpha Epsilon Pi and Phi Kappa Psi allegedly held parties during this year's WOW Week that were not registered with the university. Alpha Epsilon Pi has admitted to doing so.
Chapter President Jake Margulies told the Mustang News the unsanctioned event took place on Sept. 18 at the fraternity house on Hathaway Avenue.
Alpha Epsilon Pi is a Jewish fraternity. Margulies said fraternity members were having a Shabbat dinner and invited some friends over to the house.
At 11:30 p.m., three men who did not attend Cal Poly and were not from San Luis Obispo tried to enter the house. They offered money and alcohol to the doormen.
After the doormen denied their request, the three men broke through the side fence, and fraternity members kicked them out.
University police officers then confronted the men who were holding open containers. The men told the officers they got the alcohol from fraternity members inside the house. That was not true, Margulies said.
Still, the police determined a party was taking place inside the house, and it contained alcohol.
Margulies said the social probation ruling is completely fair, and it is a wake up call to the fraternity.
Phi Kappa Psi leaders did not comment to the Mustang News.
The Cal Poly website lists one other fraternity, Alpha Gamma Rho, as being on social probation. The university also has two open investigations into fraternities, one of which as well is Alpha Gamma Rho.
Additionally, the university has imposed sanctions on one fraternity and has placed several others on long-term suspensions.