California wildfire could lead to landslides
December 28, 2015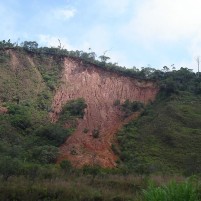 Officials are warning of possible landslides on hills north of Ventura that were burned by a wildfire over the weekend. The potential landslides could threaten nearby railroad tracks, Highway 101 and Highway 1. [Fox News]
Ventura County fire Capt. Mike Lindberg said, in the case of heavy rain, gravity would take the loose soil down the highway, across the train tracks and into whatever stands in its way.
The wildfire broke out Friday night when high winds caused power lines on an oil field to arc. The fire burned approximately 1,230 acres and led to the closure of a 15-mile stretch of Highway 101, as well as Highway 1.
On Saturday, the fire stopped spreading when winds eased. The fire was 75 percent contained on Sunday, and it is expected to be fully contained by Tuesday.
The wildfire threatened dozens of homes. Authorities have rescinded evacuation orders for about 50 homes in Solimar Beach.