Dispute erupts after SLO fire burns The Sub
December 28, 2015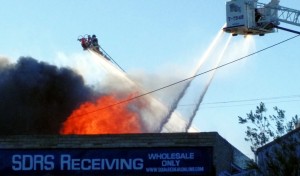 Following a fire that destroyed The Sub and burned day and night Saturday, the business owner and the San Luis Obispo Fire Department are trading blame for the extent of the damage.
The Sub is a retail store and head shop located in the 200 block of Higuera Street. The fire destroyed 40 years of collectible graphics in the store, including 100,000 vinyls in the basement, co-owner Richard Ferris said. [Tribune]
Ferris told the Tribune he arrived at the scene 10 minutes after the fire started, and at the time, the fire was confined to the front box window. A single fireman with a hose could have put out the fire, but no firefighter would take a hose in the building and fight the fire, Ferris said.
The business owner also said firefighters ignored him when he tried to explain the interior of the building.
On Sunday, the fire department issued a press release giving its account of the blaze.
Fire officials say the blaze spread quickly because of the dense storage of highly flammable materials in the warehouse and the lack of fireblocking. Contemporary regulations require there be fireblocking materials materials in the walls, but the building was constructed before the the rules took effect.
The first fire unit arrived within three minutes of being dispatched, according to the news release. The fire was consuming the front of the retail area of the store, and flames were billowing out the front windows.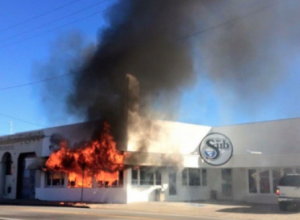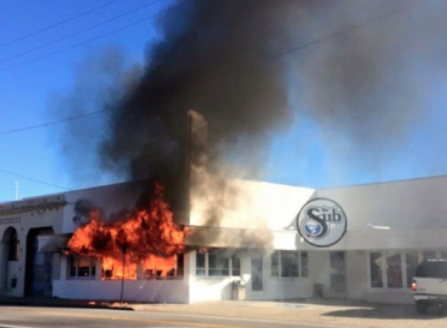 Crews immediately began attacking the fire from the interior and cutting holes in the roof to help remove smoke and extreme heat, the news release states.
Stacks of highly combustible synthetic materials — as high as 18 feet — fueled the fire. Heavy heat and smoke triggered by the excessive fire load forced crews to leave the building, according to the fire department.
When additional crews entered, an opening in the firewall allowed the fire to reach the stacks of synthetic materials. the blaze surrounded the firefighters, and they had to retreat before tons of flaming debris cut off their exit, the press release states.
From that point on, firefighters battled the blaze exclusively from outside the building.
Fire personnel responded to the blaze at 10:50 a.m. At 8 p.m., smoke continued to billow from The Sub while firefighters from multiple agencies battled the blaze.
Firefighters worked overnight extinguishing flare ups, according to the fire department.
Investigators have yet to determine the cause of the fire. Witnesses reported hearing a loud explosive sound around the onset of the fire.