District 3 Supervisors debate drug testing, oil and taxes
April 30, 2016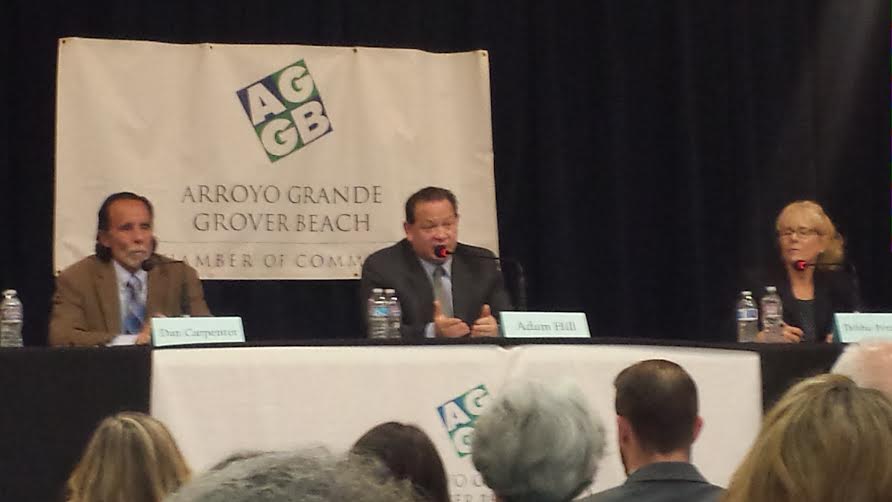 Two San Luis Obispo Supervisor candidates said they would take a drug test if asked, while the third said he was opposed to drug testing because of privacy reasons, during a debate Thursday at the South County Regional Center in Arroyo Grande.
"As a San Luis Obispo County employee, I am required to take a random drug test," the question read. "Would you be willing as a supervisorial candidate to submit to random drug tests."
Hill responded first with surprise at the question and then objected to employee drug testing, aside from public safety staffers, because of privacy issues. He failed to answer whether or not he would agree to take a drug test.
Former Grover Beach mayor Debbie Peterson said she would take one that night. Peterson said the county considers supervisors to be first responders.
San Luis Obispo City Vice Mayor Dan Carpenter said he would take a random test anytime. He also noted that while working at the Diablo power plant he was subject to random drug testing.
All three candidates said they were opposed to the proposed Phillip's 66 rail spur. Nevertheless, Carpenter and Hill sparred over Hill's ads claiming Carpenter is in favor of the rail spur.
Carpenter said that on Feb. 19, 2015, he voted along with the rest of the San Luis Obispo City Council to copy a letter to the SLO County Board of Supervisors voicing their opposition to the rail spur.
"The supervisor continues to run ads that says I am in favor of it," Carpenter said. "That is the caliber of this individual who will do anything to get reelected."
Hill responded by saying Carpenter was trying to bait him.
"Dan's going to try to bait me all the time," Hill said. "We know that depending on where he is on any day, we don't know what he stands for."
Hill and Peterson both said they are in favor of a proposed half cent sales tax to pay for road work. Both discussed traffic congestion and noted that tourists would end up paying about half of the tax.
Carpenter said that state legislators have squandered gas tax monies that they have an obligation to send back to local agencies. He said that passing the tax would be rewarding the state's bad behavior and that the county should demand it gets its portion of the gas tax monies back.