"Isis" makes appearance in California school yearbook
May 9, 2016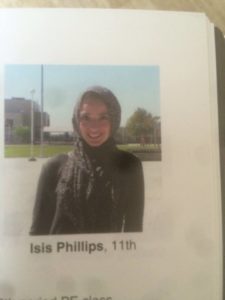 A 17-year-old Southern California high school student is disgusted that she was misidentified in her yearbook as "Isis Phillips." The student, Bayan Zehlif, is Muslim and is pictured in the yearbook wearing a hijab. [CBS LA]
Susan Petrocelli, the principal of Los Osos High School in Rancho Cucamonga, announced on Twitter that the school was investigating "a regrettable misprint" in the yearbook. Petrocelli also said a student named Isis Phillips previously attended the high school and is still enrolled in the school district and that could be the reason for the error.
Zehlif dismissed the school's reasoning in a statement she posted on Facebook.
"I am extremely saddened, disgusted, hurt and embarrassed that the Los Osos High School yearbook was able to get away with this," Zehlif wrote. "Apparently I am 'Isis' in the yearbook. The school reached out to me and had the audacity to say that this was a typo. I beg to differ, let's be real."
Zehlif's parents say their daughter was subjected to an anti-Muslim slur. The family is working with a civil rights group and is planing to meet with school administrators on Monday. Zehlif will remain at home until both sides agree on a solution.
The school yearbook publishers issued a statement apologizing for the "mis-tagging."
"We should have checked each name carefully in the book and we had no intention to create this misunderstanding. It is our fault and this is absolutely inexcusable on our part."
Los Osos High School was previously caught in a controversy after the school newspaper published an article titled, "Is the N-word offensive?"