Pipeline company facing criminal charges over Refugio oil spill
May 17, 2016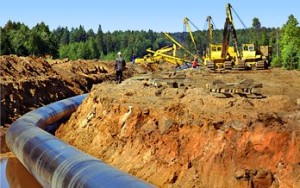 A California state grand jury has indicted Plains All American Pipeline and one of its employees over last year's oil spill in Santa Barbara County. The company announced the indictment in a press release Tuesday morning.
The indictment contains a total of 46 counts, 36 of which relate to wildlife that was allegedly killed. Ten counts counts relate to the release of crude oil or reporting of the release, according to Plains All American.
On May 19, 2015, a pipe belonging to Plains All American ruptured near Refugio State Beach, causing about 100,000 gallons of oil to spill. About 21,000 gallons of oil flowed into a culvert and then into a ditch that drains into the ocean. The spill spread over 9 miles of coastline, mostly consisting of sandy beaches.
Following the oil spill, federal regulators found the pipeline had sustained extensive external corrosion prior to bursting.
Both the Santa Barbara County District Attorney's Office and the California Attorney General's Office launched criminal investigations into the oil spill. District Attorney Joyce Dudley and Attorney General Kamala Harris are holding a joint press conference in Santa Barbara Tuesday to discuss the oil spill.
Plains All American released a statement saying it is deeply disappointed Dudley and Harris chose to pursue criminal charges against the company and one of its employees.
"Plains believes that neither the company nor any of its employees engaged in any criminal behavior at any time in connection with this accident, and that criminal charges are unwarranted. We will vigorously defend ourselves against these charges and are confident we will demonstrate that the charges have no merit and represent an inappropriate attempt to criminalize and unfortunate accident."