Norovirus outbreak at San Luis Obispo middle school
June 11, 2016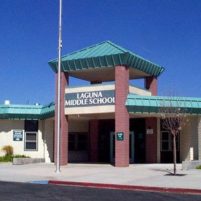 About 80 Laguna Middle School students and one teacher appear to have contracted the Norovirus prompting school officials to postpone the eighth grade dance until next Friday. Students started their summer break on Thursday.
"Due to an outbreak of gastrointestinal illness in our 8th grade class, we have reason to believe our students have possible been exposed to a highly contagious disease," Principal John Calandro wrote in a Thursday email to parents.
Norovirus, which is spread through fecal/oral transmission, causes nausea, vomiting and fever. Symptoms usually last from 48 to 72 hours.
County health officials confirmed that several middle school students tested positive for the norovirus. Officials suspect the students and the teacher caught the virus while sharing food at a school potluck picnic on Tuesday.