North County men arrested for drugs and guns
August 18, 2016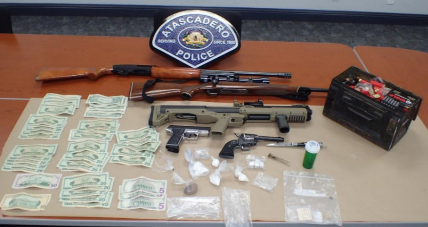 Atascadero police arrested three North County men who were traveling in a car with several guns, about $10,000 worth of narcotics, cash and ammunition.
On Monday, an Atascadero police officer conducted a traffic stop on a vehicle on northbound Highway 101 at the Santa Rosa exit and determined the driver did not possess a driver's license and one of the occupants of the vehicle was on probation, according to an Atascadero Police Department news release. Other officers then arrived at the scene and conducted a search of the vehicle.
Police found cocaine, heroin, methamphetamine, marijuana, cash, ammunition and several firearms. One of the firearms was reportedly stolen during a burglary in San Luis Obispo County.
Police say the combined street value of the narcotics is estimated to be nearly $10,000.
Officers arrested John Allen Webb Jr., 27, and Travis Thomas King, 31, of Atascadero and Templeton resident Eric Lee Juhl, 30. Police charged the suspects with possession of a controlled substance for sale, unlawful transportation of a narcotic for sale and possession of a controlled substance with a firearm.
King also received a charge of violation of felony probation.
Police booked the suspects in San Luis Oibspo County Jail, where they remain as of Thursday morning. Webb and Juhl each have their bail set at $50,000, while King's bail is set at $65,000.