Rock marathon takes over Mid-State Fair
August 3, 2016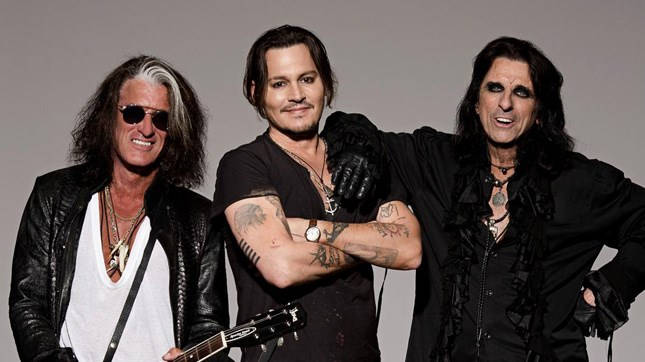 By COLIN JONES
As most of my friends know, I go to a lot of concerts. So four shows in five days during the second week of the California Mid-State Fair (three on school nights no less) might be a record for me. And that's not even counting Stevie Wonder at the Chumash the night before. But more on that later.
I guess you have to strike while the iron is proverbially red hot. As I've said many times, nothing beats a summer night of live music in the outdoor Chumash Arena. Not even the Democratic Convention for a political junkie like myself.
So when the Hollywood Vampires hit Paso Robles Monday night, it was on like Donkey Kong. Sure, you could argue these guys are just a greatest hits tribute band featuring heartthrob Johnny Depp but you would be sadly mistaken. Put rock and roll patron saint Alice Cooper on stage with Aerosmith guitarist Joe Perry, Stone Temple Pilots bassist Robert DeLeo, Guns N' Roses drummer Matt Sorum, throw in Phil Collen of Def Leppard and you got the hard rock and heavy metal version of Ringo's All-Stars.
The fellas did not disappoint with versions of Jimi Hendrix, Led Zep and David Bowie classics to go along with Aerosmith and Alice Cooper staples. By the end, there were five guitarists playing which pretty much says it could have been my buddy Steve up on stage and no one would have aurally known the difference. Except that Steve is not actually Johnny Depp.
On Tuesday, former Eagles drummer and prolific solo artist Don Henley headlined the grandstand arena. Similar to the Vampires show, the arena was about half full but with a completely different feel and vibe. Again, there's always a missing element or glitch that keeps a certain performance less than ideal.
For me, it's usually a favorite song or two that are left out. Henley, promoting his latest record Cass County, failed to play its biggest hit and best song 'Take a Picture of This' for the eager crowd, instead opting for Eagles monster tracks 'Life in the Fast Lane,' 'Hotel California' and 'Desperado' in tribute to his fallen band mate Glenn Frey. One more Don, you can do it.
Beach Boy numero uno Brian Wilson performed on the ever-popular Music & Wine night, unfortunately it was a prime example of needing to tailor your performance for the venue and audience.
Wilson began with perfectly good renditions of hit after hit but just as he and his 11-piece band hit their stride, they morphed into 'Pet Sounds,' which dark themes were a poor fit for a closing Friday at the sweltering summer fair. Maybe a few of its most popular tracks would have been fine but doing the whole record took the 'Sloop John B' sails right out of the crowd. The show was salvaged somewhat by a rousing encore of 'Good Vibrations, Help Me, Barbara Ann, Surfing USA and Fun, Fun, Fun.'
By far the best concert of the fair was Duran Duran and Chic on Wednesday evening, probably one of the top five shows I've ever seen there. It was one of those magical nights where everything came together in perfect harmony: a still, warm night; happy, festive people; fun companions; great music you can dance to and an uplifting, positive vibe that permeated the arena.
We can thank two of the most appreciative and enthusiastic performers around: legendary songwriter and guitarist Nile Rodgers and new romantic front man extraordinaire Simon LeBon. It's rare that an opening act like Chic can get the kind of enthusiastic reaction they received but when you crank out classics like 'Le Freak, Good Times, Get Lucky, We are Family and Let's Dance,' the natives get happy real fast.
However, the pretty English lads of Duran Duran one-upped their longtime friend Rodgers with a nearly two-hour show of light, sound and words that entertained and enlightened everyone. The show opened with strong new material like 'Paper Gods' but soon transitioned into their early, mid-80s hit machine.
Keyboardist Nick Rhodes was missing so fellow band mates, some original and some not, admirably picked up the slack. But their performance was all about Bon, Simon LeBon, who pranced around with the energy of a 19-year-old, showing off very solid vocals that have held up well through the touring and recording decades.
This pop rock band from that early 80s, New Romantic heyday has performed worldwide for decades but LeBon genuinely remarked that Paso Robles and the central coast was probably the nicest venue ever. 'You fabulous people are very lucky to live here,' or something to that effect.
Back to Stevie Wonderboy at the Chumash, nearly half of his two-hour plus show was spent covering songs from fallen artists like Bowie, Prince, Glenn Frey, Natalie Cole and Maurice White. Sure, it's a nice touch but not at the expense of your own iconic melodies, which people payed big bucks to come hear. It's a pretty simple formula for pop music concerts that headliners all too frequently ignore.
Overall, the fair seemed a little down in 2016, partly because of the triple digit temps. Free stage concerts were a lot less crowded and lively than years past but when you trot out tired acts like BJ Thomas, don't expect much.
Still, the California Mid-State Fair remains SLO County's biggest event year after year and the big-name headliners, good, bad or indifferent, are the straws stirring that $13 margarita.