Chimney Fire approaching full containment
September 5, 2016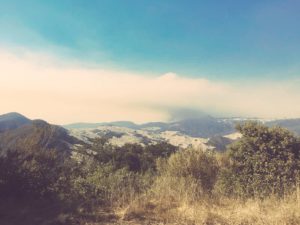 After burning for nearly a month, the Chimney Fire in northern San Luis Obispo County and southern Monterey County is approaching full containment. The Chimney Fire is 97 percent contained, as of Monday morning, and fire officials expect to achieve full containment by Tuesday.
The fire broke out on Aug. 13 south of Lake Nacimiento. The blaze has since burned a total of 46,344 acres.
A total of 49 homes and 21 outbuildings were destroyed by the blaze. The fire also damaged eight structures. No structures are currently threatened by the fire, and all evacuation orders have been lifted.
The Chimney Fire threatened Hearst Castle for more than a week, which shut down public access to the castle between Aug. 20 and Aug. 28. Tours of Hearst Castle restarted a week ago.
Fire officials say light wispy smoke will remain in the area for several days. Also, smoke from the Soberanes Fire, which is burning in Big Sur 40 miles to the north, is drifting into the northern area of the Chimney Fire.
A total of 736 fire personnel are still attending to the Chimney Fire. Firefighters are aggressively mopping up on the perimeter of the fire. Suppression work is expected to continue for several weeks.