Thieves snatching catalytic converters in Santa Barbara County
September 5, 2016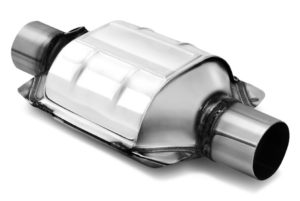 The Santa Barbara County Sheriff's Office is warning residents that thieves are targeting vehicles' catalytic converters, which the crooks break down to obtain precious metals. Thieves then sell the metals, which include platinum, palladium and rhodium.
Catalytic converters are emissions-control devices which are attached to vehicle exhaust systems to reduce the toxicity of emissions. Thefts of catalytic converters are increasing nationwide, according to the sheriff's office.
Last week, the sheriff's office received a number of complaints about catalytic converter thefts in Goleta, Isla Vista and areas surrounding Goleta. Most of the vehicles targeted were Hondas or Toyotas.
Thieves are targeting vehicles in the middle of the night and sawing off their catalytic converters, according to the sheriff's office. The thefts started occurring on Aug. 28 and continued through last week.
One of the victims reported waking up at 4 a.m. and observing a dark, possibly gray sedan parked parallel to his parked vehicle. The victim reported seeing a male suspect walk away from his vehicle holding something in his hands. The suspect then got into the front passenger seat of the other vehicle and drove away.
The sheriff's office did not state whether any arrests have been made. Investigators request that anyone who has information about the recent catalytic converter thefts call the sheriff's office at 805-681-4100.
Sheriff's officials advise residents to park their vehicles in well-lit areas, and when in parking lots, to park close to the entrance of the building or near traffic.