Nipomo package thief caught on camera, then arrested
November 15, 2016
A social media-powered manhunt for a South County package thief led to the arrest of an Arroyo Grande woman and some celebratory Facebook posts by a Nipomo father.
Kevin Beck ordered a lego package from Amazon for his young son. Beck did not receive the package yet Amazon said it was delivered, so the Nipomo father reviewed his home surveillance footage from the day of the delivery.
"Look what we found," Beck posted on Facebook after watching footage of a woman stealing the package from his front porch. "I will find this lady! How dare you steal a gift for my son. You messed with the wrong household."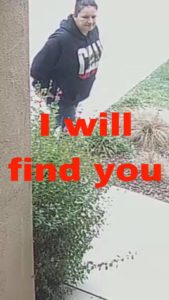 Beck posted footage of the theft on Facebook, and the video circulated online and in the local media. Then, a person called the San Luis Obispo County Sheriff's Office and anonymously reported the location of the suspect's vehicle.
On Monday evening, deputies located Monica Menchaca, 36, in the 800 block of Sheridan Road in rural Arroyo Grande. The deputies arrested Menchaca and charged her with being under the influence of a controlled substance and violating her probation. Deputies booked Menchaca in San Luis Obispo County Jail, where she remains in custody with her bail set at $20,000.
A theft investigation is ongoing. Investigators are trying to identify other possible theft victims and recover any property that was stolen.
Following Menchaca's arrest, Beck posted her mugshot on Facebook. He also updated his Facebook cover photo to show surveillance footage of Menchaca with the words "I will find you" crossed out and the words "got you" in capital letters.
"I could care less about the legos. Don't F with me or my family. I will find you," Beck wrote in a Facebook comment.