Talking turkey at Thanksgiving in the year of Trump
November 23, 2016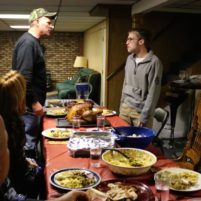 Opinion by Steve Brody, Ph.D.
Whether here in SLO County or New York City, a good therapist doesn't tell you what you want to hear. He tells you what you need to know. So after specializing in couples therapy for over 40 years, listen up. Talking turkey politically at the Thanksgiving table has never been easy, but this year it will be especially challenging.
Anti-Trump people, when it comes to cultural change, you can't rub Pro-Trump noses in it. "The folks," as Bill O'Reilly rightly calls them, can only swallow so much change in what has been an astronomically short period of time. By the way, this is true for "the folks" in countries from Iran to England as well.
So lighten up. Push for what you believe is just and right, but do so in a gentle and respectful way. As Voltaire once wrote: "We cannot always oblige, but we can always speak obligingly."
Trump sympathizers, show some tolerance. Many of you say you're Christian; act like it. Love thy neighbor. Even if he prefers a different sexual partner than you do, bows to Mecca instead of Jerusalem, or speaks Spanish instead of English. They bleed and cry, hope and love, just like you do.
Show a little understanding, compassion even. And be open to new ideas and information, like global warming. Maybe those scientists are on to something.
And both of you, beware demonizing the perspective of "the other." I hate to be the bearer of bad news here, but you're not the only one with truth and light. Like in couples therapy, maybe, just maybe, your spouse has a somewhat valid point of view as well.
It's like the couple who comes in for marriage counseling and one partner says: "I've told you my side of the story, now let me tell you his." Well, it doesn't work that way. Incredible as this may sound, your partner's view is not as wrong, weird, dumb, immoral, unhealthy or irrational as it may seem to you.
Pro-Trump and Anti-Trump people, read that last line again…and chew on it. It's fundamental to preserving the union. Divorce is not an option.
So here's your homework. Anti-Trump people, protest peacefully, and give the new guy a chance. If he messes up, call him on specific behavior rather than attack his overall personality, however tempting that may be.
Trump sympathizers, be patient. This is a huge loss for those on the other side. Grief takes time. Give them some. Don't accept violence, but expect anger, and show some compassion and reassurance.
Also, both of you, don't wait for the other guy to do all the work. You've got no control there. But you do have power to change half the equation — your half.
So if you Anti-Trump people are peaceful and give the new guy a chance, and you Trump supporters are patient and show some compassion, you up the odds of meeting in the middle. You might even learn from one another. As ye sow, so shall ye reap, remember?
And when you start to flip out, and you will, take two breaths and call me in the morning. Acting out in anger when you're biochemically hijacked will not lead to domestic tranquility. Walk away or count to ten. As the ancient Chinese used to say: "Not the fastest horse can catch a word said in anger."
Pray or meditate, exercise, and seek support from like-minded friends and family. Forming a more perfect union is not easy. Never was, never will be. It'll take your best effort to be the kind of person you say you'd like to be. You can do it…this Thanksgiving and during the rest of the year as well. Your children and grandchildren are counting on you.
Steve Brody, Ph.D., is a psychologist in Cambria, co-author with his wife of Renew Your Marriage at Midlife, and a past president of the Division of Media Psychology of the American Psychological Association.