California synagogue smeared with feces at start of Hanukkah
December 26, 2016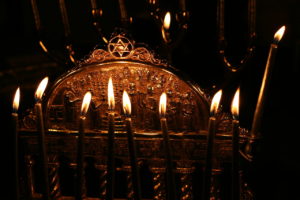 A Santa Monica rabbi arrived at his synagogue early on Sunday, the first morning of Hanukkah, and found the front window smeared with feces and rice. The vandalism was on display in close proximity to the synagogue's menorah. [LA Times]
No one was at the Living Torah Center Chabad on Wilshire Boulevard when the Jewish holiday began Saturday night. Rather, the congregation was eating latkes and doughnuts at the rabbi's home.
It is presumed the vandalism occurred Saturday night or early Sunday morning.
"This seems kind of intentional," Assistant Rabbi Dovid Tenenbaum said. "With a religious artifact in the window, we have to assume so."
Santa Monica police officers said there were no witnesses to the crime. The synagogue has yet to install surveillance cameras.
This weekend's incident was not the first time the Living Torah Center was targeted.
About a month ago, a man entered the synagogue during a service, stood up and shouted "Heil Hitler;" positioned his arms as if he was shooting a rifle; and ran away. About one year ago, there was a letter left in the synagogue's mailbox that contained a swastika and the message, "Get out of here, you Jews."
Also, the outline of a cross is still visible on the synagogue's front window. A vandal etched the cross years ago.
"There are many times that others have wanted to annihilate the Jewish people," Tenenbaum said. "The Jewish people have succeeded, and we're still here to talk about it, thank God."