Questions after 2 die, 1 hurt in county custody
January 31, 2017
By KAREN VELIE
Editor's Note: This is part one in a two-part series about San Luis Obispo County health services and sheriff department's treatment of the mentally ill.
Two men died and a third man seriously injured himself while in county custody in January. A handful of county workers say the deaths and injury could have been prevented if San Luis Obispo County followed state guidelines for dealing with the mentally ill.
County employees, who requested anonymity because they fear retaliation, said that mentally ill inmates and patients are being mistreated and neglected by county staff. The mistreatment includes long-term isolation, incorrect and over medication and failure to provide adequate health care, the employees said.
Early last summer, police arrested 56-year-old Anthony Vazquez on a misdemeanor charge and booked him into the San Luis Obispo County Jail. However, a San Luis Obispo County Court dropped the charges and ordered Vazquez transferred to the county mental health facility.
On Oct. 5, county staff checked Vazquez into the county mental health facility and county doctors began prescribing medications to treat his mental health issues, sources said.
Several months later, Vazquez said he was feeling bad and began pleading to see a doctor other than the one at the county facility, telling staff and others that he thought he was dying.
"Anthony would ask, 'Please don't let me die in here,' " a source familiar with the events surrounding Vazquez' death said.
However, mental health supervisory staff and the county conservator, who took control over Vazquez several weeks before he died, refused to allow Vazquez outside medical care, sources said. Dr. Eugene Edward Kercher, 77, hired to see patients at the facility, also failed to send Vazquez to a hospital or outside physician, sources said.
Following his decision not to provide Vazquez access to other health care providers, some county staffers questioned Dr. Kercher's medical competency.
Several weeks ago, Vazquez' blood pressure dropped. He was rushed to French Hospital Medical Center where he died as the result of a gastrointestinal bleed, sources said.
While county staffers question the treatment of patients at the county mental health facility, the mentally ill may fair worse at the SLO County Jail, county employees say.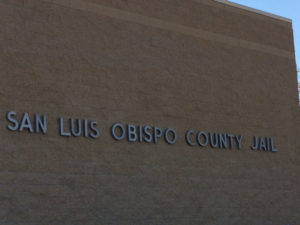 Andrew Chaylon Holland, 36, was booked into the San Luis Obispo County Jail in September of 2015 on a charge of resisting arrest. Holland suffered from schizophrenia and had been going through a change of medication, his family said.
While in the county jail, Holland was held in isolation and given ineffective medication, his family said. He then became combative with staff and was repeatedly charged with battery of an officer.
Shortly before Christmas, Holland was stripped and thrown naked into a small concrete cell with rubber padding, no bedding and a hole in the floor for his waste, sources said. After several weeks, deputies moved Holland out of the rubber room and back to his isolation cell.
On Jan. 10, a San Luis Obispo County Court ordered Holland into a mental health facility. He was not transferred.
The county mental health facility regularly refuses to receive inmates claiming either there are no beds available or licensing issues prevent the facility from accepting more inmates. As a result, the jail is out of compliance with California's Title 15 regarding treatment of mentally ill inmates, according to a 2015 audit of the jail.
On Jan. 20, deputies moved Holland into the drunk tank to await transfer to the county mental health facility. However, staff from county mental health said there were no beds available and Holland was left naked and without a bed in the drunk tank for two days, sources said.
The 2015 state audit found that San Luis Obispo County has understaffed medical personnel at the jail. Both inmates and staff have suffered, the state audit found.
The jail was seriously understaffed on Jan. 22 when two medical emergencies occurred at about the same time. Jeremiah Mobley, an inmate who was locked naked in the rubber room, began to claw at his eyes. Medical staff was attending to Mobley when Holland collapsed and went into respiratory arrest at the other end of the jail complex, sources said.
The cause of Holland's death has not yet been disclosed.
Mobley was later taken from his cell and transported to Sierra Vista Regional Medical Center. At Sierra, Mobley was evaluated and deemed safe to book into jail.
With his eyes bloodied and swollen, deputies booked Mobley into the county jail before transferring him to the county mental health facility. After spending one night in the custody of county mental health, a family member agreed to purchase Mobley a bus ticket to his home town. A county staffer then drove Mobley to the San Luis Obispo's train station so that he could board a bus headed out of the county.
After several minutes on the bus, Mobley became combative and refused to sit down. The bus driver then asked Mobley to leave the bus, Manuel Reyes said. After spending more than an hour in the train station restroom, personnel called law enforcement officers who drove Mobley back to SLO County's mental health facility.