Woman killed in SLO mobile home fire
January 20, 2017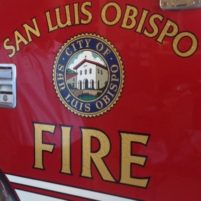 A San Luis Obispo woman died Thursday night after her mobile home caught fire. The woman failed to escape the blaze, and firefighters did not manage to rescue her.
At 10:13 p.m., a citizen reported the fire after seeing smoke coming out of a home in the 1000 block of Stephanie Drive. The caller said it sounded like fire alarms were going off inside the home.
Fire personnel and police officers arrived within minutes. Firefighters began to extinguish the flames and search the mobile home for occupants.
Soon after entering the structure, firefighters found the woman, who was the sole occupant of the mobile home. Emergency personnel made lifesaving attempts, but they were not successful, and the woman was pronounced dead at the scene.
Authorities are withholding the name and age of the victim until her relatives have been contacted.
The cause of the fire is not yet known. An investigation is ongoing.