Atascadero home damaged after attic goes up in smoke
February 1, 2017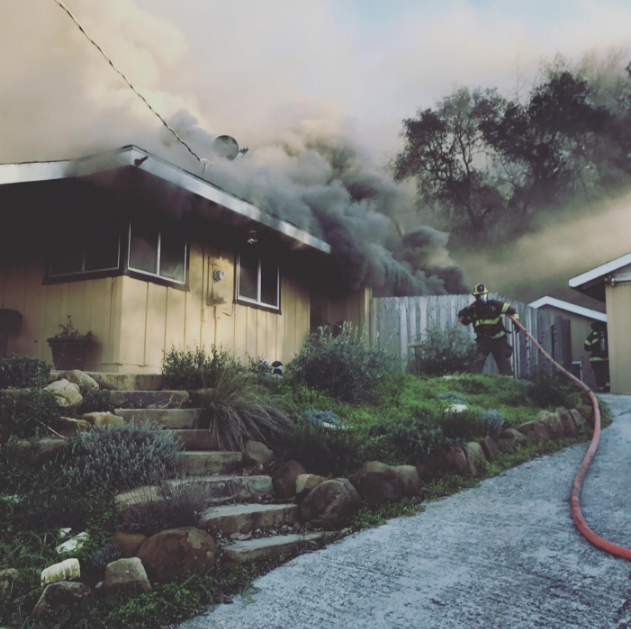 An attic fire sparked by an electrical wiring problem caused about $100,000 of damage to an Atascadero home. The blaze sent smoke billowing Monday in Northern Atascadero near El Camino Real and Highway 101.
At approximately 3:47 p.m., a caller reported a fire in the attic of the one-story, single family home located at 4480 Cayucos Avenue, according to the Atascadero Fire Department. A total of 21 firefighters responded to the home.
When the first firefighters arrived, they found heavy, dark smoke coming from the eves and vents of the attic. While crews attacked the fire inside the house, the blaze burned through the roof.
Firefighters confirmed the occupants of the home had safely exited, then pulled a significant amount of the interior ceiling sheet rock in order to access the attic. The firefighters contained the blaze to the attic, but the interior of the home sustained heavy smoke and water damage.
It took fire crews about 25 minutes to contain the blaze and about threes hours to complete an overhaul and investigation.
No one suffered injuries as a result of the blaze. Fire officials say crews prevented about $200,000 in damage.
Personnel from the Atascadero, Templeton, Paso Robles and Atascadero fire departments, as well as Cal Fire, helped extinguish the blaze. San Luis Ambulance also responded to the scene, and Atascadero police officers conducted traffic control.