Teaming up to prevent oil drilling off San Luis County's coast
February 11, 2017
OPINION by STEW JENKINS
Editor's note: A column by Democrat Stew Jenkins will run in CalCoastNews every other week, rotating with a column by Republican Mike Brown.
I've always like fishermen. Oh, and if you think you'll get appreciation from a woman fisherman by calling her a "fisher" or a "fisherwoman" you are bruisingly painfully mistaken.
The hard working men and women who go out on the ocean at O'DarkThirty to bring back salmon, albacore, rock cod, shark and crab for your table are some of the most honest, straight forward folks I know. And several decades ago when I worked as a Port San Luis Harbor commissioner to keep the oil industry from polluting our fragile coast with off shore drilling, fishermen were the first to step forward to protect the ocean off San Luis Obispo County.
So the SLO County Board of Supervisor's meeting Feb. 7 was a real puzzle.
Fishermen came in droves to ask the board to oppose a proposed federal marine sanctuary off our coast, while my old friend and high school buddy Fred Collins (with the Northern Chumash), the Sierra Club and environmentalists came in droves claiming that oil drilling off our coast was assured unless the board supported creation of a marine sanctuary off our coast. Five hours of back and forth between folks, on both sides, who wanted to protect the coast.
There are no fishermen on the board. And that fella, Adam Hill, from the third district who campaigned as an environmentalist has pretty well established that his "concerns" are "mitigated" if developers' campaign contributions are large and frequent. The board does have two Democrats (sadly Hill claims he is one), and three Republicans.
There is another group of people I've always liked as much as fishermen:  lawyers. Maybe I'm naturally biased, being a lawyer.
What I like about lawyers in office, like a supervisorial office, is that they tend to know how to read a law and know what it means, or what it will do to or for people. This is a handy skill, whether voting to enact an ordinance or voting to take advantage of some state or federal statute.
Lynn Compton, one of the Republicans, surprised everyone after all the public comment and thee of the supervisors had weighed in. Now I don't know if Supervisor Compton has ever taken the bar exam, since she ran for supervisor just as she graduated law school. But she surprised most in the room, with a one-two punch.
The first was that she did not support drilling for oil off the coast of San Luis Obispo County. And the second was that creation of a marine sanctuary would not prevent oil drilling off the coast of San Luis County.
She urged that the thing to do to oppose drilling off our coast was to get on board with Salud Carbajal's bill in Congress: H.R. 731.
I'm not sure if she'd read the National Marine Sanctuaries Act (16 USC, Sections 1431 – 1445b), but that federal act does not prohibit drilling for oil or gas in marine sanctuaries. I'm not sure if she'd read 43 USC, Section 1337, which authorizes and encourages leasing all over the nation's outer continental shelf for oil, gas, and sulfur production. But that statute's text mentions marine sanctuaries only once, and only in connection with preventing application of a bid process for easements to run pipelines and undersea electric transmission lines.
Reading the two sets of federal laws together, one realizes that without Salud Carbajal's bill being passed to amend 43 USC, Section 1337, nothing actually prevents existing or future leases to drill for oil, gas or sulfur. A marine sanctuary off our coast under those statutes would only prevent building off shore pollution free wave generating electric farms, by preventing installation of the undersea electric transmission lines needed to bring the power on shore.
Salud Carbajal's H.R. 731 is clean. Its aim directly at preventing oil and gas drilling off our fragile coast without preventing new technologies that generate clean electricity from wave action, made Compton's comment the only one that makes sense. Wouldn't H.R. 731 have an actual chance of passing through Congress if Democrats like Salud Carbajal can team up with coastal Republicans like Lynn Compton and Jordan Cunningham to protect our fragile coast and our commercial fishing industry?
Our coast has finally recovered from the days when Port San Luis was the world's largest and dirtiest oil exporting harbor, where oil rigs and refineries dotted its shores. The 1910 letter from Commerce Department archives shown below, addressed from the Point San Luis Light Station to the federal lighthouse engineer, observed that the waters of San Luis Bay were then "almost continually coated with crude-oil & waste products from the refineries, [and] it is next to impossible to handle a boat here without getting smirched with oil."
In March or April, the board will study H.R. 731 to decide if they will weigh in on behalf of the county to support it. Support of that Bill, instead of the fruitless marine sanctuary, is where Democrats, Republicans and Independents should be focusing their energy to protect our coast, by urging all five board members to support the H.R. 731.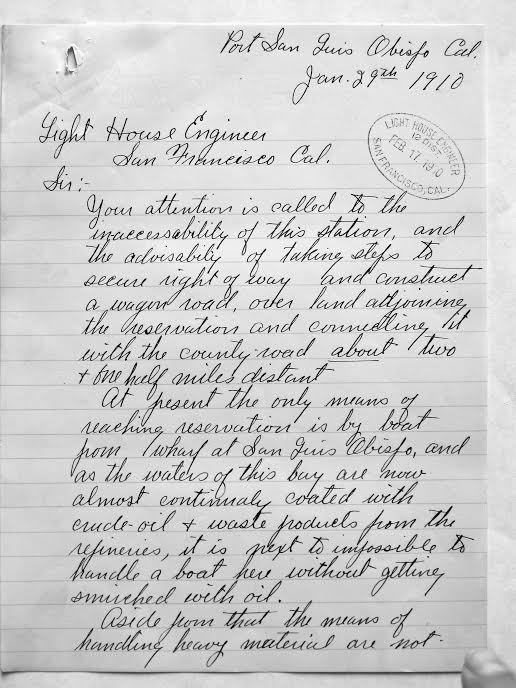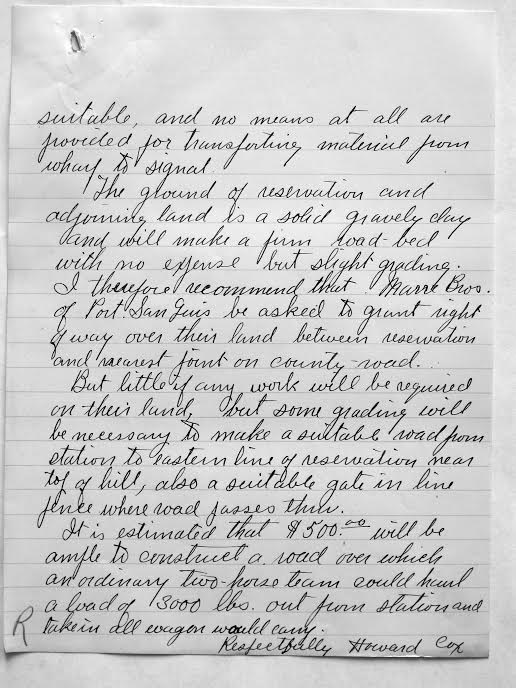 Stew Jenkins is a liberal San Luis Obispo County Democrat who supports the rights of working people to organize unions, the prudence of the cities and county growing the local economy through project labor agreements, the right of all people to health care and equal dignity. He is an attorney practicing in San Luis Obispo since 1978. Jenkins' handles tax payer suits, municipal law, estate planning and family law.