California city finance employee arrested for embezzlement
March 29, 2017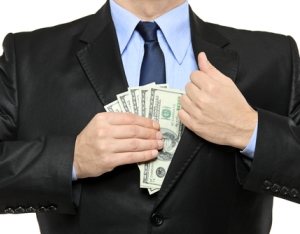 FBI agents arrested the former deputy city treasurer for the City of Compton today for allegedly embezzling  more than $3.7 million of city funds. Salvador Galvan, 47, faces federal charges stemming from allegations that he stole $3,721,924 from May 2010 through December 2016 from programs receiving federal funds.
Galvan, who worked in the Compton Treasurer's Office for more than 20 years, was responsible for tallying the cash received by the city as payment for parking tickets, business licenses and other fees. After the cash was counted, Galvan prepared the money for deposit into a city bank account.
According to the criminal complaint filed late yesterday in United States District Court, Galvan skimmed cash from the daily receipts on numerous occasions. An audit of the city's cash deposits "identified discrepancies which vary from approximately $200 to $8,000 per day," according to the affidavit in support of the complaint.
The FBI interviewed Galvan's supervisor, who "reflected about Galvan's time in the office, his unexplained affluence, and his generosity," according to the affidavit.
The supervisor told investigators that Galvan went from driving an "old Toyota" to increasingly luxurious vehicles, including a black Audi sedan. That affidavit states that Galvan told his supervisor that he purchased a residence in La Mirada and demolished the house so he could rebuild it – all on an annual salary of approximately $60,000.
"The people of Compton deserved better," said Acting United States Attorney Sandra R. Brown. "This defendant stole millions of dollars intended to help residents, placing his own greed over their interests."
Galvan was arrested late last year by the Los Angeles County Sheriff's Department in relation to the theft of city funds. The federal case that led to Galvan's arrest this morning resulted from further investigation by the Federal Bureau of Investigation.
"Defendant Galvan violated the trust of the public he served by stealing money designated for the betterment of the Compton community," said Deirdre Fike, the Assistant Director in Charge of the FBI's Los Angeles Field Office. "By operating a scheme whereby he skimmed Compton city coffers to live beyond his means, Mr. Galvan faces significant federal charges and time behind bars."
Galvan is scheduled to make his initial court appearance this afternoon in United States District Court. If he is convicted of the embezzlement charge, Galvan would face a statutory maximum sentence of five years in federal prison.