Thief burglarizes Paso Robles Trailer Barn
August 6, 2017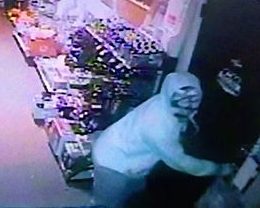 The owner of the Paso Roble trailer barn is asking the public to help identify a burglar who broke into the store early Saturday morning. The store's surveillance cameras caught the thief in the act.
"Hey friends and family of Trailer Barn," the store posted on Facebook, we had a break in early this morning. If you know this person or notice anything that could help identify them please let us know. Call us at 805-227-4300.
"We live in a small town, even with the mask there is a good chance somebody can recognize this person from their sweatshirt, pants, shoes, eyes, height, body type, etc. The police were on the scene fast, but the perp had already fled the scene by car. You can also call Paso Robles Police with any info at 805-237-6464. Thanks!"
The Trailer Barn is a retail and repair store located at 1195 Ramada Drive. The store sells and repairs new and used boat, horse and equipment trailers and accessories.