Cal Poly shooter threat appears overblown
February 21, 2018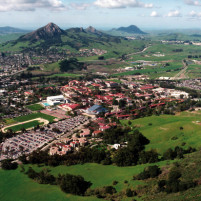 A social media post that appeared to reference a shooter on the Cal Poly campus on Wednesday made rounds online Tuesday night, prompting a flurry of concerned comments from university students and community members. However, campus officials are saying Wednesday morning that Cal Poly classes will continue as scheduled, and a preliminary investigation indicates the university was not the target of the threat. [Cal Coast Times]
Late Tuesday night, university police sent out an alert stating there is no credible threat to the campus, but authorities are investigating the social media post. Students received the alert via text messaging.
"UPD is aware of a social media post that references the possibility of a shooter on campus tomorrow," the alert said. "No credible threat to the campus has been received by the university and police are actively investigating the origin of the message. More information will be shared as it becomes available."
The university followed up by tweeting on the official Cal Poly Twitter account that there is no credible threat to the campus.
Numerous social media users have circulated a social media post that is addressed to "Poly students" and warns of a shooter.
"POLY STUDENTS!! there has been word of a school shooter, threatening to shoot the school tomorrow. Do whatever you got to do to not be harmed. I for one will not be taking my ass to school. Be safe"
It appears the post can be tracked to an Instagram account called "pharaohmi_".
Some commenters on social media have suggested the original post was referencing Poly High School in Long Beach.
Cal Poly police and other law enforcement agencies are still investigating the threat, as of Wednesday morning.