Bystander helps rescue victim of Paso Robles fire
March 12, 2018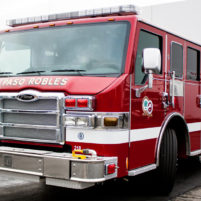 A Paso Robles police officer and a bystander rescued a person who was lying on the ground inside a burning apartment Sunday afternoon. The victim suffered burns in an apparent kitchen fire but survived. [Cal Coast Times]
Shortly before 3 p.m., bystander noticed a fire at an apartment at 2041 Riverside Avenue in Paso Robles. The bystander then flagged down a police officer who was on patrol in the area, according to a city of Paso Robles news release.
Looking in through the front door, the officer and the bystander saw a person lying on the floor of the smoky apartment. They pair then rescued the victim from the apartment.
Firefighters arrived to find police officers with the victim, who was lying in the front yard of the apartment. Smoke was coming from a bottom floor apartment.
The victim had suffered burns on the hand and body. After firefighters provided treatment, an ambulance transported the victim to a local hospital.
A kitchen grease fire was extinguished before it could spread to other units in the building.
Cal Fire and the Atascadero Fire Department provided assistance to Paso Robles firefighters. A total of 15 firefighters responded to the blaze.