Plans for a Grover Beach conference center canceled
June 27, 2018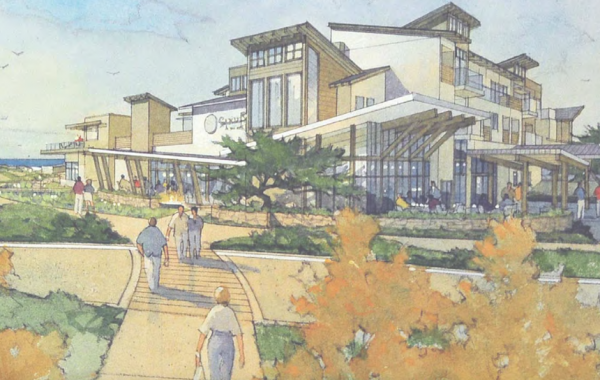 The long-envisioned Grover Beach lodge and conference center project may now become just a hotel development. [Cal Coast Times]
Pacifica Companies, the developer, is currently seeking approval from the city of Grover Beach to move forward with the project without the conference center component. The developer has already obtained approval for the project amendments from the Grover Beach Planning Commission and is awaiting a city council hearing next month.
Already approved by the council and the California Coastal Commission, the project was supposed to include a 11,130-square-foot standalone conference center, in addition to a 134-room hotel. The multi-building lodge is expected to cover about 121,000 square feet on a 13.4-acre site within Pismo State Beach.
Project planners now intend to replace the conference center with additional public parking. The proposed changes also include adding 3,000 square feet of meeting space to the main lodge building, creating a total of 4,000 square feet of meeting space within the structure.
A city staff report states the conference center part of the project could be reconsidered in the future.
In addition to requesting changes to the project, Pacifica Companies is also asking the city for a third one-year development extension. The council has already twice approved one-year extensions, doing so in 2016 and 2017.
If the new request is approved, Pacifica Companies would have until June 11, 2019 to begin construction.
The proposal to drop the conference center component of the project comes as Paso Robles officials are considering the possibility of a conference center being built in the North County city. City officials envision the construction of a $26 million conference center on the grounds of the Paso Robles Event Center with the building opening for gatherings as soon as 2021.