police searching for clothing thief, commercial burglar and car thief
July 19, 2018
Amid a seeming flurry of theft related incidents, San Luis Obispo police announced Thursday that they are searching for a clothing thief, a commercial burglar who stole items belonging to an employee and a car thief. [Cal Coast Times]
Police are circulating surveillance images or video of each of the three suspects. The cases appear to be separate.
First, police announced a woman stole more than $400 of clothing from a downtown business over a period of several days. A pair of surveillance images show the woman inside the business.
The woman appears to be middle aged and blonde. She is pictured wearing glasses while simultaneously having a pair of sunglasses sitting on her head.
Anyone who has information about the clothing theft is asked to call Officer Benson at (805) 594-8059.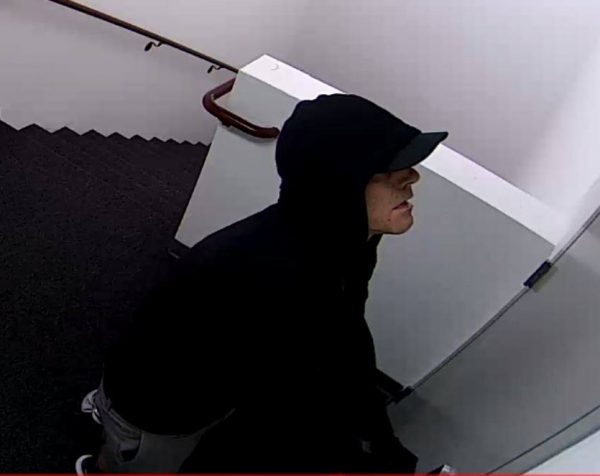 Shortly later, police announced that at about 2 a.m. Thursday, a man broke into a business in the 800 block of Aerovista Lane. The suspect accessed the back staircase of the business through an unlocked exterior door and appeared to use an unknown tool to enter, police stated in a social media post.
The man stole an employee's personal items and tried to enter another suite at the top of the stairs but did not succeed. He then fled before officers arrived.
Surveillance images show the suspect wearing a black hood and hat, as well clean black and white Nike sneakers. Anyone who recognizes the suspect is asked to call the SLO Police Department Communications Center at (805) 781-7312.
Then at about 2:30 p.m. Thursday, a man stole a BMW that was parked in front of a business on Monterey Street. Police say the stolen vehicle is a blue 2000 BMW 740i with a California license plate numbered 5BTX906.
Surveillance video shows the suspect entering a business around the time of the theft. The man appears to ask a clerk for the time, then he walks out.
Police are asking for help in identifying the suspect and the whereabouts of the vehicle. Anyone who has information is again asked to call police at (805) 781-7312.