Caren Ray campaigner suspected of vandalism rampage
November 2, 2018
By KAREN VELIE
Arroyo Grande police have asked prosecutors to charge a Caren Ray campaigner with felony vandalism after she went on a rampage last month damaging more than $4,000 in city, business, campaign and personal property. [Cal Coast Times]
Mayor Jim Hill and Councilwoman Caren Ray are in a heated race for the mayor's seat. The election is on Nov. 6.
Dressed in black, Patty Welsh left a city council meeting on Oct. 9 and allegedly drove around Arroyo Grande tossing Christmas ornaments filled with brown paint at Jim Hill for mayor signs and property in the vicinity of the signs. At Tom's Auto Service, after the owner refused to allow Welsh to put a Caren Ray for mayor sign at his business, Welsh allegedly threw paint on both a Jim Hill for mayor sign and a sign for Tom's Auto Service.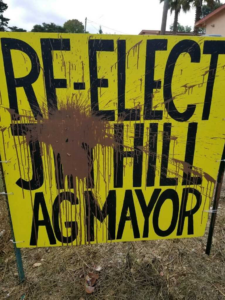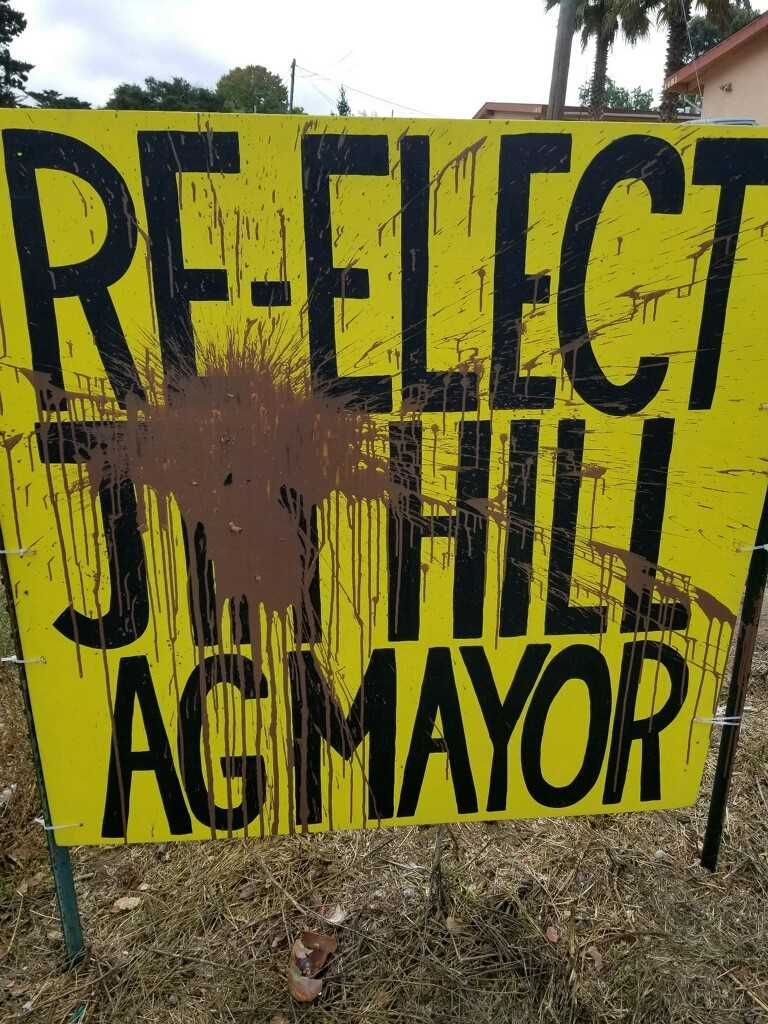 As officers and public officials left city hall after attending a new officer swearing in ceremony, the wide-spread vandalism was discovered. In all, Welsh had allegedly damage property at 11 different addresses.
Witnesses told officers Welsh had threatened to steal Hill's signs and had been seen leaving the City Council meeting early, according to court records.
"Welsh has a history of vandalism and is a very vocal critic of Jim Hill," officer Vincent Johnson wrote in a search warrant affidavit.
At 1:45 a.m. on Oct. 10, officers went to Welsh's Pradera Court home and searched a grey trash can she had pulled to the curb. Inside the can, officers found a rusted out paint can with the same color brown paint that the vandal had used to destroy mayor Hill's signs, according to the affidavit.
Later that day, officer Bradley Hogan knocked on Welsh's door and asked her to step outside. She refused to step outside.
"Welsh appeared nervous and while speaking her and her voice were shaky and weak," according to the affidavit.
Welsh refused to answer the officer's questions about why she damaged the property and if someone else had put her up to the vandalism. When asked if she would tell an officer why she damaged the signs, Welsh shook her head, "indicating a nonverbal no," police wrote.
Officers then began searching for surveillance equipment and reviewing videos. On one video, Welsh's 2017 Toyota Prius is seen at the site of a vandalism on East Grand Avenue, "and then fleeing eastbound approximately 90 seconds later," according to the affidavit. Welsh's Prius was captured on video at several of the vandalism sites.
The San Luis Obispo County District attorney's Office is currently reviewing the request for a felony vandalism prosecution.
Welsh hung up on a reporter when asked about the allegations. Caren Ray's campaign manager Shirley Horacek said they do not want their campaigners vandalizing her opponent's property.
"I would never want anyone in the campaign to do that," Horacek said. "I cannot imagine anyone doing such a thing."
Don't miss investigative news reports, sign up for our weekly email blasts.