San Luis Obispo County public defenders sued for malpractice
November 12, 2018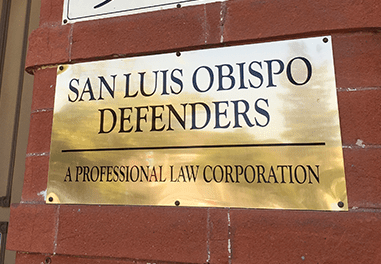 By KAREN VELIE
The family of a mentally ill man who died in the San Luis Obispo County Jail is suing two San Luis Obispo County public defenders and a law firm under contract with the county for malpractice and negligence leading to death. [Cal Coast Times]
The suit filed earlier this month claims San Luis Public Defenders (formerly Maguire and Ashbaugh), and attorneys Patricia Ashbaugh and Ron Crawford, breached their duties as practicing attorneys and left Russell Hammer "to languish and to die in SLO County's unsafe jail." Attorney Paula Canny filed the suit on behalf of Hammer's wife.
On Nov. 6, 2017, Hammer, 62, stabbed his wife at a Morro Bay recreational vehicle park. Hammer's wife told Morro Bay police officers her husband suffered from physical and mental health issues and asked them not to arrest him. After a local physician concluded Hammer was suffering from dementia and psychosis, officers booked him into the SLO County Jail with his bail set at $100,000.
During his arraignment on Nov. 8, 2017, Ashbaugh represented Hammer, who was too ill to attend. Ashbaugh did not request a hearing for either bail reduction or a no bail supervised release. After a prosecutor requested a no contact order with Hammer's wife of 25 years, Ashbaugh did not object, according to the lawsuit.
Ashbaugh also failed to inform the court of Hammer's mental illness, his physical ailments, and that Hammer had no criminal history. She did not present any mitigating evidence or information to the court, the lawsuit says.
On Nov. 9, 2017, prosecutors filed an amended complaint. Crawford, who was now representing Hammer, made no objection to the amended complaint and did not attempt to get his client released from jail, according to the suit.
From Nov. 9, 2017 onward, no one from the public defender's office went to the county jail to see Hammer.
On Nov. 27, 2017, suffering from cellulitis in his leg (a painful and life threatening skin infection that can make it difficult to walk), Hammer died from a blood clot that dislodged from beneath the infection.
"At all times herein, Ronald Crawford and all SLO County Defender attorneys did not request any additional discovery, medical records, or conduct any investigation," according to the lawsuit. "Instead they did nothing, leaving Russell Hammer to languish in the SLO Jail which they knew or should have known is fundamentally unsafe for an elderly, mentally ill, and physically ill person."
Ashbaugh did not return requests for comment.