Repeat offender attempts to rob Sam Blakeslee, lands in jail
February 2, 2023
By KAREN VELIE
A man with a criminal history spanning five states is in jail after he attempted to rob a former California senator and assemblyman outside a drug store in San Luis Obispo.
At about 4 a.m. on Jan. 30, a security camera caught a burglar jimmy the lock on Sam Blakeslee's personal office door at Blakeslee & Blakeslee, a financial service business on Marsh Street in SLO. The burglar spent about an hour in the office before leaving with bags of stolen items, including Blakeslee's Apple Watch and his iPad.
Realizing an app on his cell phone could track the missing Apple products as long as the items remained charged, the 67 year old began to hunt for the burglar.
"I wanted to move quickly while my iPad and watch were charged," Blakeslee said. "I began hunting him going to various locations."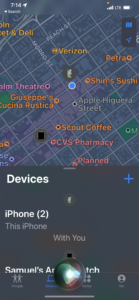 Eventually, the app led Blakeslee to the CVS on Marsh Street. Blakeslee then called 911 to report his items were with someone outside the store.
After about 15 minutes, Blakeslee noticed a man pull an iPad out of a shopping cart he was pushing. He snapped the suspect's photo, who became enraged. The suspect charged at Blakeslee and attempted to take his phone.
Blakeslee held onto his phone, and after the man gave up, called 911 a second time. This time officers arrived in about five minutes.
A police sergeant criticized Blakeslee for not waiting for law enforcement to track down the items, even though a dispatcher said burglary reports are a low priority.
Officers then arrested 29-year-old James Delles on charges of burglary, grand theft, first degree robbery and possession of marijuana for sale. Delles has an extensive criminal record spanning five states. He is currently being held without bail.