Paso Robles man flees police, ends up in jail
February 2, 2023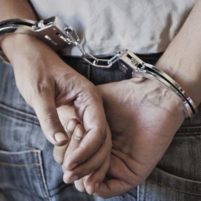 By KAREN VELIE
A 36-year-old Paso Robles man is in jail after he tossed a stolen gun out of a car window and led officers on a chase on Tuesday.
Shortly before 5 p.m., an officer stopped a vehicle for a traffic violation near the corner of 14th and Olive streets in Paso Robles. During the stop, the driver Jacob Hamby, attempted to hide something under his seat.
Hamby then sped off, and tossed a stolen handgun out the driver's side window. As officers gave chase, Hamby stopped his car to let out two passengers.
Officers contacted the passengers, and then arrested Julian Gomez of Santa Margarita for outstanding warrants.
Because of Hamby's erratic driving, officers terminated their pursuit.
Shortly afterwards, an off-duty officer saw Hamby driving eastbound on Highway 46, outside the city limits.
With the assistance of the California Highway Patrol, officers were able to slow Hambly down through the use of a spike strip laid on the highway. Hamby finally gave up and was arrested in Kern County.
Officers booked Hamby in SLO County Jail on outstanding warrants, evading, possession of stolen property and numerous weapons charges. He remains in jail in lieu $62,500 bail.