Newsom present, Trump absent at California GOP presidential debate
September 28, 2023
By JOSH FRIEDMAN
SIMI VALLEY, Calif. — California Gov. Gavin Newsom is neither a Republican nor a current presidential candidate, yet the Golden State governor captured as much attention on Wednesday as any of the GOP White House hopefuls who stood on the debate stage in Simi Valley.
Newsom, whom many observers expect will eventually launch a run for the White House, represented United States President Joe Biden on the sidelines of the Republican debate that took place at the Ronald Reagan Presidential Library. Former President Donald Trump, the current GOP presidential frontrunner, did not attend the debate.
Seven of Trump's challengers, who trail far behind him in the polls, squared off on stage at the Reagan Library. None of them seemed to emerge from the debate as a clear contender in the Republican presidential race.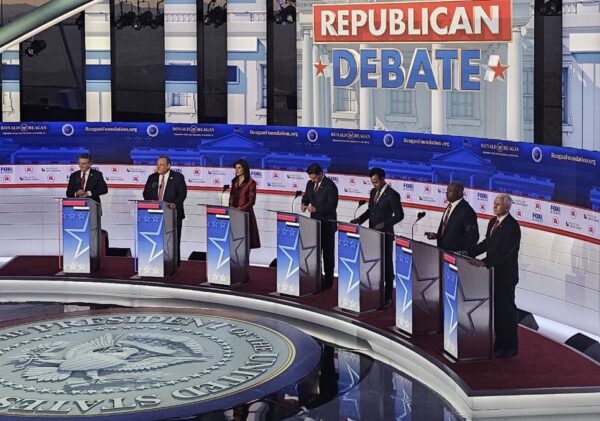 The Democratic governor of California spoke with media before and after the debate, fielding questions including whether he could potentially replace Biden as the his party's nominee for the 2024 presidential election. Fox New's Sean Hannity asked Newsom following the debate whether, under any circumstances at all, he would accept the Democratic nomination for 2024.
"No, it's a hypothetical. It's ridiculous. Joe Biden's our president," Newsom responded.
A CalCoastNews reporter, as well, tried asking Newsom whether he intends to run for president. Newsom did not respond to the question as CHP officers ushered him through the crowded spin room at the Reagan Library. 
Hannity, though, spoke with CalCoastNews after his exchange with Newsom about a potential 2024 run for the White House.
"I was just pressing him," Hannity said. "He starts ducking, dodging weaving, but I got him to say nope, under no circumstances, so I will take him at his word," Hannity said.
However, the Fox News host said he believes Newsom, at some point, will run for president.
On Nov. 30, Hannity will moderate a one-on-one debate between Newsom and Florida Gov. Ron DeSantis, who stood center stage on Wednesday at the Reagan Library. While speaking with media about his upcoming debate with DeSantis, the California governor criticized his Florida counterpart for choosing to run for president and now trailing Trump by more than 30 percentage points in primary election polls. 
Newsom characterized the entire group of GOP candidates who took the debate stage in Simi Valley as a "JV team" that is unable to compete with Trump.
On the debate stage inside the Reagan Library's Air Force One Pavilion, candidates traded barbs, with some of them ganging up not on DeSantis, but rather on entrepreneur Vivek Ramaswamy. Heading into the debate, polls positioned Ramaswamy as trailing Trump and DeSantis and neck and neck with former South Carolina Gov. Nikki Halley for third place in the Republican presidential race. 
Candidates attacked Ramaswamy for alleged business ties with China and use of the Chinese-developed social media platform TikTok. 
Speaking with reporters in the spin room, Ramasway said he wants to continue Trump's America First agenda and take it to the next level. 
"I was the only America First candidate on that stage. I think everybody was implicitly or explicitly taking barbs at President Trump because presumably that's the strategic thing to do, whereas for me, my view is I'm in this race to take the America First movement to the next level," Ramaswamy said. "I respect Donald Trump, but the America First agenda doesn't belong to one man. It doesn't belong to me, it doesn't belong to him. It belongs to the people."
The 38-year-old entrepreneur also said "it will take somebody whose best days are still yet ahead in life" to lead and unite the country.
Ramaswamy was the final candidate to leave the spin room following the debate. Newsom, who appeared on three different cable news programs and fielded questions from reporters, stayed in the spin room longer than all of the candidates, with the exception of Ramaswamy. 
Trump delivered a speech to autoworkers in Michigan Wednesday evening.