SLO City Council to consider lowering parking rates
November 6, 2023
BY KAREN VELIE
The San Luis Obispo City Council is scheduled to discuss parking rates and the impact the increased costs have had on downtown visitors during a meeting on Tuesday, according to the agenda.
The council plans to discuss parking rate relief options that include bringing back the one-hour free parking to all city structures. In addition, the council will consider authorizing a parking rate study.
Last June, the council voted unanimously to double downtown parking rates, effective July 2023, with  plans to build a fourth parking structure. Two-hour street parking in the main downtown core increased from $2 an hour to $4 per hour while parking in structures rose from $1.50 an hour to $3 per hour. The city also eliminated its first-hour-free parking in all city structures.
Downtown business owners say the changes resulted in fewer visitors and less revenue. Research by city staff shows a decline in visitors to the downtown from 2022 to 2023, according to a staff report.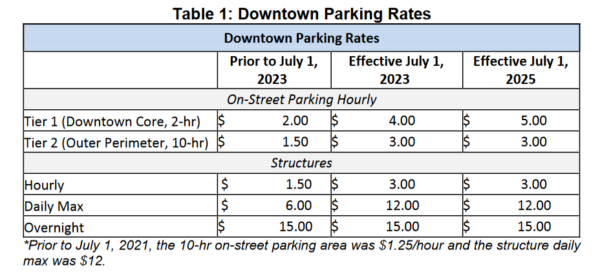 The council approved the rate increases to help pay for the new parking structure, which will provide needed capacity on the west end of downtown in what has become the developing Cultural Arts District. The new San Luis Obispo Repertory Theatre will be built adjacent to the structure.
The current rate structure was developed based on the cost of the proposed parking garage. However, the cost estimates have changed, with a considerable savings. The proposed study would look into reducing rates based on the cost savings.
Currently, downtown street parking rates are slated to increase to $5 an hour on July 1, 2025.