Who laced the cake at a California bakery?
January 12, 2015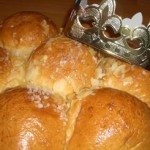 A Southern California bakery is under criminal investigation after approximately 40 customers became ill from eating bread that police say contained a synthetic drug. [NBC Southern California]
After consuming Three Kings cake, customers of Cholula's Bakery in Santa Ana experienced symptoms ranging from nausea to hallucinations. The customers reported getting sick on Monday and Tuesday of last week, and the bakery closed on Wednesday.
Customers who ate the bread also reported having dizziness, palpitations and numbness. Some had out-of-body experiences, according to Santa Ana police.
Nurses from multiple hospitals contacted the police, prompting the criminal investigation. Health officials then tested the bread, and lab results showed the presence of a synthetic drug.
Police are now trying to pinpoint the substance contained in the bread out of hundreds of possible synthetic drugs.
Three Kings cake, or bread, is a fruitcake traditionally eaten on Jan. 6 to mark Three Kings Day, a Christian day of feast.
Cholula's Bakery distributed the tainted cake to markets and stores across Orange County. The fruitcake then reportedly made its way around California.
People who believe they have consumed the laced bread are encouraged to contact the Santa Ana Police Crimes Against Persons Unit at (714) 245-8390.