DUI-prone driver narrowly misses SLO creek
January 12, 2015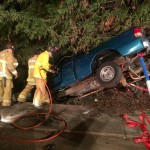 In an apparent repeat DUI offense, a San Luis Obispo man narrowly missed plunging his truck into a creek late Saturday night.
Charles Evert, 22, suffered undisclosed injuries in a single car crash that required emergency responders to extricate him from his truck using the jaws-of-life. Evert remains in the hospital, but he faces a few criminal charges upon his discharge.
Around 11:45 p.m., Evert was driving his 1993 blue Ford truck southbound on California Boulevard when he veered off the road at San Luis Obispo Creek, according to city police. A retaining wall prevented the truck from falling into the creek and likely spared Evert from more serious injuries.
Evert did not have any passengers in the truck.
When police officers arrived, they found Evert unconscious and trapped inside the vehicle. Fire department personnel extricated him, and an ambulance transferred him to the hospital with non-life-threatening injuries.
Investigators believe alcohol was a factor in the crash, and police are preparing a criminal complaint to submit to the San Luis Obispo County District Attorney's Office. Evert is expected to face charges of driving while intoxicated, driving a vehicle with a license suspended for a prior DUI and violation of bench probation.