Santa Maria man attacks family with fire extinguisher
January 16, 2015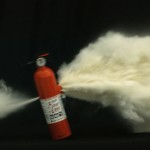 A Santa Maria man allegedly launched an unprovoked attack Thursday by breaking into a family apartment and spraying a fire extinguisher. [KEYT]
Police arrested Jose Luis Picos, 48, who is accused of entering a Santa Maria apartment on 900 East Jones Street around 2:45 p.m. Upon entering, he began spraying the home occupied by a man, woman and 2-year-old child.
The male victim confronted Picos, who then sprayed him in the face. The man then pinned Picos against a wall, but the attacker kept spraying into the apartment.
Picos eventually dropped the fire extinguisher and ran to the parking lot of Hancock College, where he began slashing tires. College police arrested him there.
When officers arrived at the apartment, they found the victim covered in powder from a dry chemical fire extinguisher. Responders transported him to the hospital for treatment.