Vons to pay for illegal dumping
January 13, 2015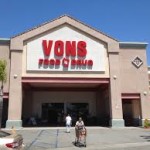 By KAREN VELIE
A judge from Alameda County ordered Safeway, the parent company for six San Luis Obispo County Vons grocery stores, to pay $9.87 million to 42 California counties and two cities for the illegal dumping of chemicals and medicines.
In the case, the San Luis Obispo County District Attorney along with 43 other attorneys alleged that more than 500 Safeway owned stores had disposed of hazardous and pharmaceutical waste in local landfills that were not authorized to handle that type of waste. The award includes a $25,900 settlement to San Luis Obispo County.
In addition, Safeway agreed to spend $200,000 to help fund environmental enforcement and hazardous material investigation trainings to be held in San Luis Obispo County.
Safeway also agreed to continue its store-level management program which is designed to address environmental compliance, to conduct annual dumpster audits and to work with state and federal agencies to promote regulatory reform.