Dog park group cuts ties with Arroyo Grande
February 2, 2015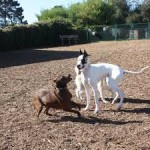 OPINION By EMMA VALDIVIESO
The Five Cities Dog Park Association has terminated its relationship with the City of Arroyo Grande and is no longer responsible for maintaining the Elm Street Dog Park.
During the last seven years, the 10-year-old association's volunteers spent thousands of hours getting the dog park designed, approved, built, maintained and improved, fund-raising more than $123,000 in the process.
We were exhausted before we wasted hundreds of hours when the city mishandled our application to improve the big dog park and to make it more handicapped-accessible by replacing the wood chips ground cover with a combination of artificial turf and decomposed granite.
While we are clearly disappointed with Arroyo Grande, we thank it for making city park land available for our dogs.
We thank all of our volunteers and donors who contributed to the park and all the park users who have enjoyed being there with their canine companions.
Our decision provides an opportunity for a new group of community-minded dog lovers to create a new organization to work with the city to keep the park open and a safe place for dogs and people to play.
Sincerely yours, Emma Valdivieso on behalf of the Five Cities Dog Park Association Board of Directors.