Frequent filer sues 6 SLO County businesses
February 7, 2015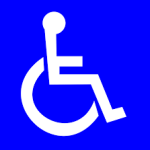 A disabled Arizona man with a criminal past and a vast history of litigation filed six lawsuits against San Luis Obispo County businesses on Jan. 30. [Tribune]
Robert McCarthy, 59, has filed more than 250 suits under the Americans With Disabilities Act. McCarthy, who has used a wheelchair for 39 years because of contracting polio as a child, sued restaurants, nurseries, liquor stores and hotels. He has demanded that business owners be fined $4,000 for every instance where their facilities have failed to meet federal standards.
Many business owners settle the before the suit goes to trial while others shut down under the financial pressures of litigation.
In San Luis Obispo County, McCarthy filed suits against the Creekside Inn in Cambria; Bay View Inn in Morro Bay; Bay Laurel Nursery in Atascadero; Best Western El Rancho in Morro Bay; Clubhouse Sports Bar & Grill in Los Osos and Morro Bay Market & Spirits. His complaints include failures to have proper signage and allegations of excessive counter height.
McCarthy's criminal history includes allegations he filed multiple lawsuits under his deceased brother's name in an attempt to avoid losing disability, Social Security and spousal support payments.
During a search of McCarthy's home in 2003, detectives found more than two dozen digital magazines with explicit photos of children engaging in sexual acts with men, along with child pornography books and magazines, the Fresno Bee reported.
More than a decade ago, Jarek Molski, who has been confined to a wheelchair for decades following a car crash, sued dozens of San Luis Obispo County business including more than 20 local wineries for allegedly violating federal disability access laws.
In 2004, U.S. District Judge Edward Rafeedie dubbed Molski a "hit-and-run plaintiff," accusing him of systematic extortion of businesses across California. Molski had filed more than 400 suits under the Americans With Disabilities Act before Rafeedie barred him from future litigation.