SLO crash traps injured woman in car
February 5, 2015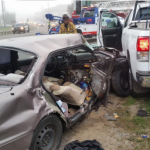 San Luis Obispo firefighters needed to extricate a woman who was trapped inside a car after a collision with a truck Wednesday morning.
The woman, a passenger in the car, survived and is in stable conditions with unknown injuries, according to the San Luis Obispo Police Department. Emergency responders transported her to Sierra Vista Regional Medical Center.
Police officers responded to the collision at Tank Farm and Santa Fe roads around 7:12 a.m. The driver of the car lost control of his vehicle while turning onto Tank Farm and spun into oncoming traffic, according to a police department news release.
The driver of an oncoming truck tried to avoid the car, but he collided with it and totaled the sedan.
A 29-year-old San Luis Obispo man was driving the car, his 27-year-old wife was the trapped passenger, and the couple's 8-year-old daughter was also inside the car at the time of the accident.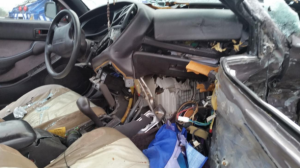 Both the father and the daughter received treatment at the scene, and authorities released them. The driver of the truck, a 56-year-old San Luis Obispo man, also received treatment at the scene.
Police say neither of the drivers showed any signs of impairment. Investigators ruled that the car leaving its lane was the cause of the crash.