Two Pismo Beach police officers axed
February 13, 2015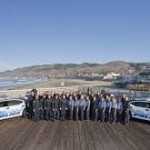 By KAREN VELIE
Three Pismo Beach police officers were reprimanded and two were let go late last year because of issues in their romantic relationships that allegedly impacted their ability to serve as peace officers.
Two of the officers had a relationship with one another and the third had an altercation with a girlfriend while on the job. In one case, issues with honesty and not the actual incident were the primary reason for termination, sources said.
Several months ago, officer Leslie Stout stopped by Giuseppe's Italian Restaurant in Pismo Beach after learning his girlfriend was planning to leave the restaurant and head to another bar with some friends, restaurant staff said.
Patrons at the restaurant watched as Stout, who was on duty at the time, forced his girlfriend into his police car before driving away, restaurant staff said. A concerned patron then called police to report the physical altercation between Stout and his girlfriend.
A week later, police internal affairs investigators called Giuseppe's and asked to view the security tapes of the incident, which had already been recorded over.
Nevertheless, on Dec. 23 Stout was terminated because of the altercation with the woman he has since married and also because of issues with his version of events, sources said.
In addition, a Grover Beach woman who suffers from seizures has accused Stout of excessive force after he allegedly mistook the aftermath of a seizure for intoxication.
On Oct. 11, after Andrea Hansen, 32,  started having seizures while walking home from local establishment where she had been drinking alcohol, Hansen called 911 seeking medical assistance.
However, Stout and another officer arrived instead of an ambulance. Because Hansen acted disoriented and slurred her words, the officers determined she was intoxicated. Officers then sent the first ambulance that arrived on the scene away.
Stout reported that Hansen slurred her speech, smelled of alcohol, and was combative. Stout arrested Hansen who was later charged with public intoxication, resisting arrest, and battery of a peace officer – all misdemeanors.
Hansen has retained attorney David Vogel, and regardless of the outcome of her criminal case, she could pursue a lawsuit against the Pismo Beach Police Department.
In addition to Stout's dismissal, a female officer who was on a one-year probation as a new hire was also let go. Rebecca Ramond began working for the Pismo Beach Police Department on June 16. She was let go on Oct. 8 after it was determined she was in a romantic relationship with her field training officer, sources said.
The training officer was not terminated. Nevertheless, because of a California law that exempts personnel information about sworn peace officers from disclosure, the department is not releasing what disciplinary was taken.
Don't miss breaking news stories, like CalCoastNews on Facebook.