Vandals nail Los Osos bear again
February 27, 2015
The Los Osos bear statue is currently missing a large chunk of its face, including its mouth.
Vandals smashed off part of the bear's face sometime Wednesday night, according to volunteer group Celebrate Los Osos. Last month, thieves snatched a solar panel and cut electrical wires that light up the bear.
In an email to CalCoastNews, Celebrate Los Osos member John Zweemer said he is offering a $1,000 reward for information leading to the arrest of anyone involved in the defacing of the bear. Sheriff's detectives have not yet caught anyone suspected of stealing the solar panel or cutting the bear's electrical wires.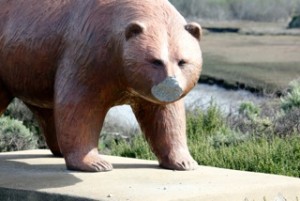 The bear is located on South Boulevard near Turri Road. Zweener describes it as a "large an iconic welcome to town."
In addition to the bear, vandals have recently targeted an electronic message board that greets drivers as they enter Los Osos. Earlier this month, the vandals shut off the message board, which is located near the corner of South Bay Boulevard and Los Osos Valley Road.
The sheriff's office has not announced an arrest or citation in that case, either.